With the increase in mobile usage day by day how can you not think of marketing your products and services through something mobile friendly? Instagram TV or IGTV takes you to an altogether different experience compared to any traditional TV experience.
IGTV Instagram was launched not long before, but due to its immense contribution to marketing, it has become a widely used medium. This long form video app is accessible within Instagram and is targeted to global users. Installing it in Android and iPhone devices, anyone can upload a vertical full-screen video in it. CISCO Research shows that by 2021, 78% of total mobile data traffic will come from mobile video. Hence, this is definitely a great move by Instagram to increase the popularity of video content on social media.
Instagram has 1 billion active users (monthly) which means it's the third largest social networking channel after Facebook and YouTube. Needless to say, IGTV is receiving excellent acceptance worldwide.
Market survey also portrays that online video viewership will exceed to 236 million in 2020. This means that Instagram TV has a bright future. Besides the social media giants(Facebook and YouTube) it will be one of the best platforms that will continue to help businesses for effective social media and video marketing effort.
What is IGTV?
IGTV is one of the significant and exciting developments of Instagram that allows users to publish longer-form videos (10 minutes or 1 hour) and share those with their followers. According to Instagram former CEO Kevin Systrom, IGTV would be an ideal place for ads. Small and medium businesses can use IGTV to advertise about their recent products and services and thus engage their followers.
Want to know how to get IGTV? It's simple download the app from Google Play Store and start using it accordingly.
How to use Instagram TV?
Any user on Instagram can create their own IGTV channel, IGTV starts playing the moment you open the Instagram TV app. Although at present a specific time limit is set for uploading videos – 10 minutes for most accounts and up to one hour for accounts that are larger in size. Yet, Instagram has said that eventually there will be no time limit as such.
Source: Facebook
Instagram TV: How Small and Medium Businesses can Binge upon it?
It's quite easy to use IGTV for your business. You can use your existing Instagram business account as your IGTV channel. However, videos that your post on your Instagram feed doesn't show up automatically to your IGTV channel so repurpose your existing videos to your channel. Just before uploading videos you must maintain that your videos are vertical (since videos on IGTV are optimized for mobile viewing) not landscape and have an aspect ratio of 9:16. With so many exciting features IGTV is undoubtedly a booming platform.
Exciting Features of IGTV
User-friendly Layout: The new IGTV layout allows videos to display below each other in large tiles. This allows the viewers to glance at more prospective and related videos.
Picture-in-Picture Display: Playing IGTV videos will have a picture-in-picture display. This is a feature similar to YouTube and has been gathering massive attention from users.
In-Feed Promo feature for Videos: Users following a particular profile will receive a preview of their published video in their feed. A click on it will let the users view the full video. This will make a brand more visible and easily discoverable.
1. Offers opportunity to increase the visibility of your products and services
Since the time Instagram was introduced as a networking platform, it has established itself as one of the most popular and effective social media channels for businesses. Whether small or medium-sized companies, every type of enterprise started enjoying its benefits of connecting to their target audience. And now when there's Instagram TV, things have become easier. IGTV supports long-form contents and hence using the app would increase the visibility of your products and services thereby generating additional user traffic.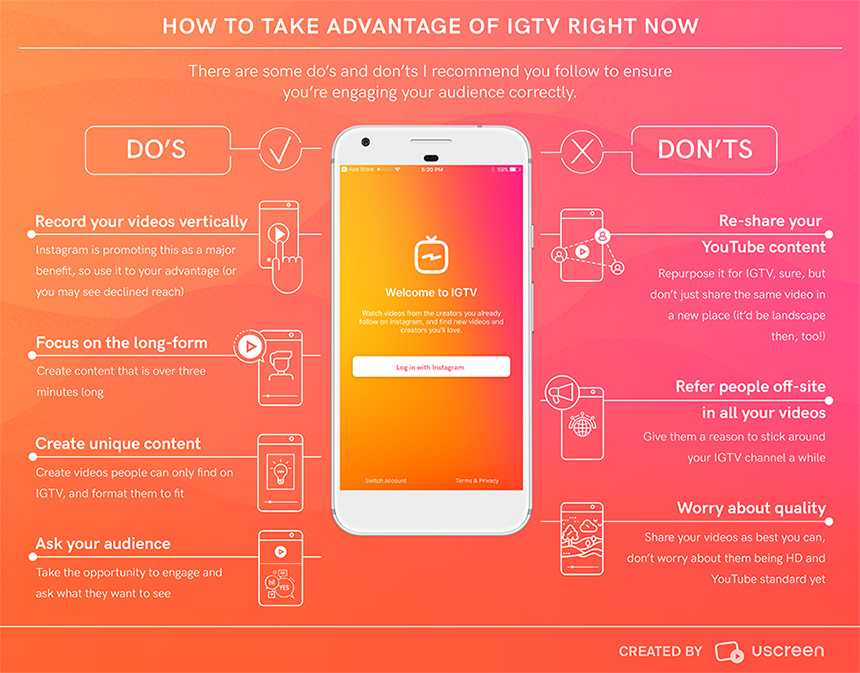 Source: Uscreen
2. Renders More Scope For Better Engagement and Conversions
As we know, video is the present and needless to say it's the future too. Hence every brand must find out innovative ways to market through videos. Several pieces of research prove that video marketing has an innate ability to boost engagement. Over the years video has also flourished as the practical means to increase conversions too. So there's no room for doubt a channel like IGTV will give the users scope to increase engagement and conversion through likes, comments and shares. Businesses can compellingly showcase their products and services to their benefit.
3. Helps To Build Links to Your Site and Drives Traffic
If you want to walk ahead of your competitors just creating a great video isn't enough. You need to find lucrative ways to draw your audience towards your website. Don't you want people to respond to your 'call to action?' It's natural that your target audience won't go in search of your company and what it offers. How would you guide your audience to your site then? Here IGTV can be of great assistance for you. Include clickable links in the description of your video and direct your audiences to your landing pages.
4. Allows Marketers To Unleash Their Creativity and Engage Audience
Marketers can use Instagram TV as a canvas to exhibit their creativity. IGTV allows every user to upload long-form contents and hence marketers take this advantage to engage the customers on a deeper level creatively. 60 minutes is a considerable time which gives you endless possibilities to explore. You can create behind-the-scene releases to make your audience to understand your brand completely. You can even repurpose your relevant content and engage your customers more.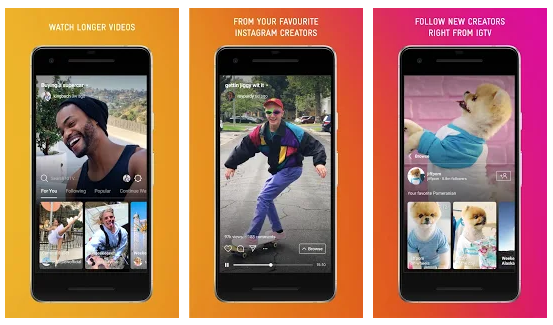 Source: Google Play Store
5. A Less Competitive Platform Compared to Others
There's no denying the fact that the digital world offers a plethora of video sharing platforms such as Facebook and YouTube for effective marketing. But for a small or medium level enterprise, it's tough to manage the kind of competition these platforms offer. Instagram TV is the best place that can help you to perform two tasks simultaneously – one, impress your audience without facing too much competition and two, get noticed with ease.
Switch to IGTV Now
We need to remember that present-day audience's demands and expectations change continuously. So, to keep them satisfied and contended you must foster something that has a long lasting impact. Hence, with so much in store IGTV can act as a bonanza for small business owners. You can create your brand identity by posting persuasive stories and reach out to an enormous potential audience. Make the most of it and you can really make your business visible.
What kind of videos would engage your audience on IGTV? AnimatedVideo offers you a plethora of video creating techniques. Once you have created a video and uploaded it, you might need support on successful digital branding. A1Future takes care on your digital transformation into customer-centric entity so that you can thrive at the customer's choice.
You may also like:
5 Reasons Why Instagram Influencer Marketing Should Be Your First Focus Today
Instagram vs. Snapchat vs. Pinterest – What should be your pick [Infographic]
9 Latest Strategies to Get More Instagram Followers in 2019