[responsivevoice_button rate="1″ pitch="0.8″  voice="UK English Male" buttontext="Listen to this Blog"]
Social listening is the process of analyzing, tracking and responding to the conversations about your brand on the social platforms. It is a vital component of audience research that gives a significant reflection of the brand's stature in the market in the social listening report. All companies having an online presence understand the need to build a solid face in social media. It is the way a brand becomes a household name, thus aiding in high brand awareness.
Things are not always easy to determine; there can be many unwanted and out of the blue situations that even the risk gauging endeavors seem to be futile. Things like bad scandals, negative comments and feedbacks are certain things that cannot be controlled. So to regulate them, all we can do is to handle those loopholes in the benefit of the company. Social media marketing is indeed a rocky road, but that should not be allowed to become a red for a business' aim to make it bigger and better. The moment you see a red flag, try to fix it with utmost creativity and a ready ear to listen.
Understanding social media listening to the core
Once again, social listening is regulating the social media profiles of a brand by looking for any kind of customer feedback that has direct mention like in groups, or comment threads. Obviously, you just cannot barge into the private chatrooms! Analyze keywords, competitors, topics and see where your brand gets called on.
Unlike social monitoring, the process of social listening has two parts. Where monitoring finds the traces of social mentions, listening traces the root from where the mention had started. Thus it is beneficial because social listening changes the entire strategy of social media marketing with better and more useful ideas. Social listening lets you create new contents and their strategy that will make your brand talk of the town.
Benefits of social listening why you need to start doing it right away!
Any social listening strategy should be customer-centric. Other than assuming what they need, hear out from their mouth about their desire from your content. People today are very much into sharing their opinions at social media; be it positive or negative, they are out there telling the truth and brands are welcoming the feedback to improve their services and products because a hundred others are dealing in same. So let's dig into the benefits:
1. An intense bond forms between the brand and its customers when the latter find their feedback and opinions being addressed with highlight. As per Sprout Social,
83% of respondents like when brands respond to questions, and 68% like when brands join conversations.
You can see that being responsive in the social media makes a huge difference with customer interest. Even when you are not tagged directly, people expect you to reply and when you do, an accent of credibility gets included to your brand's USP and this indeed goes a long way.
2. Easily track the growth of your brand with this practice. Sometimes, as mentioned above; your brand can face some severe reputation blow and in situations like that, it is best to figure out the root cause of the blow. As a business owner, you can either decide to ignore it (in the direst cases), or you can choose to address it; ignorance can be a bliss for one or two such cases but never forget that negative reviews outweigh positive ones easily, especially in today's social media.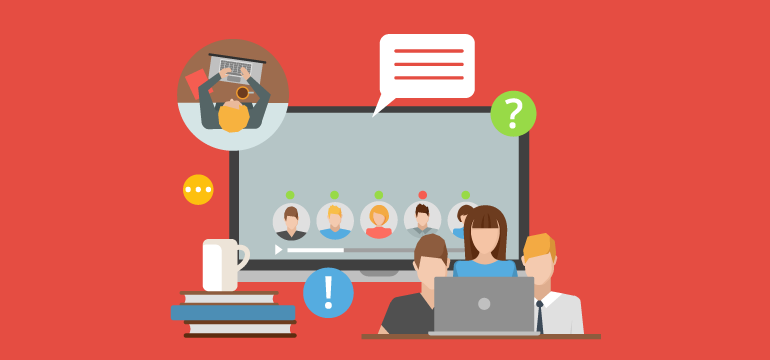 3. With an active social media participation, you will see your customers doing the job of advertising for you. Word of mouth plays a vital role in online business because people share your posts and content to their peers who are not even on your radar. Coming back to the problem, when you see a single or multiple issues are being pointed at by one or multiple consumers multiple times, then it is time you scrutinize them and take the proper steps. Successful execution of issue addressed will win you brownie points among your customers and amidst your peers, you will be hailed in a significant place.
4. With a goodwill revered by your customers, you will get laudable reach and fame on social media with the listening process. Turn your customers into your loyal followers on the social platform and experience a more enormous scope of your brand name. Alongside increased traffic, you will experience increased lead generation that will turn into increased customer acquisition. Also, you will be able to come across many new concepts and ideas that are followed by other.
How to do social listening? Try out these tools
1. Hubspot
Hubspot provides a great social media solution that helps you to prioritize all the social interactions that help you connect with the right people. It is an all-in-one tool that is built for social marketing campaigns, including blog sharing, creating landing pages, auto-sharing of contents throughout different pages and many more.
Monitor all your social interactions and analyze them with your database contacts, trigger emails and also create customized monitoring streams.
With Hubspot by your side, get to compare your performances across every social channel and track the number of organic visits and the leads you generate from that. Social media is a significant indicator of the ever-changing and ever-growing customer trends.
If you neglect to attend those trends, your brand will be at the falter. Your customers always want fresh contents to keep their interest with you and with HubSpot, you will play like a winner.
2. Sprout Social
Sprout Social is an excellent social management software whose solutions aim at improving the social interactions with customers. With the Sprout platform, you can analyze the data in-depth and take growth or strategic decision, scale and streamline all your campaigns and also look for new trends to make any strategic changes.
Sprout offers Twitter Listener dashboards and reports on your Twitter presence. With real-time monitoring, you can track direct messages and also brand-specified keywords. The platform provides priceless insights that constantly help in improving social strategy.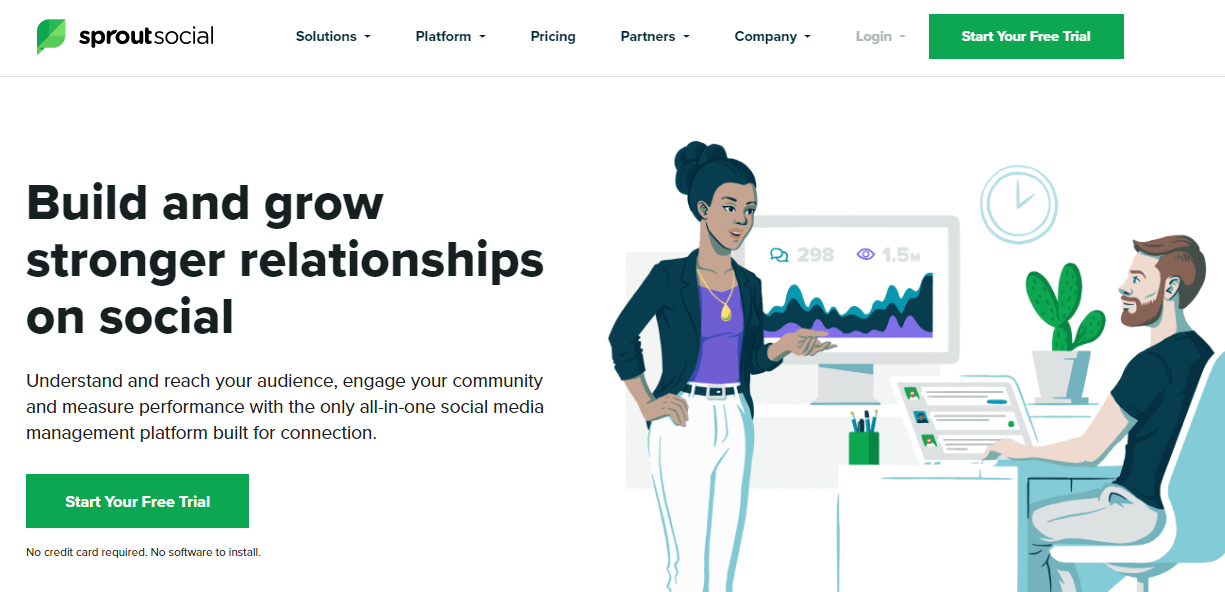 3. Hootsuite
Hootsuite is another popular listening platform for social media marketing. Its dashboard lets you to build up and grow effective relationships with customers on the social profiles. Get to view all your messages, mentions and comments about your brand and respond to them instantly.
Enlist influencers and track new leads generated by them. Hootsuite's analytics are also competent that report in real-time. It comes in 3 different plans so that you can work with the one that suits your needs.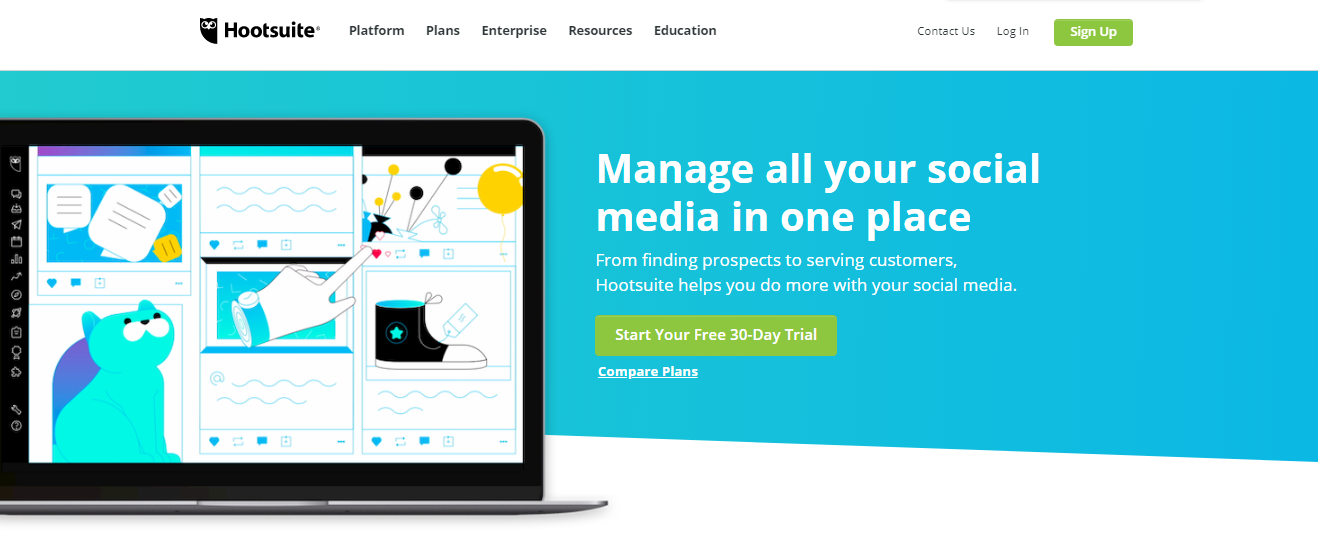 Why social media listening matters today
Unless your brand has a social media presence, your existence in the economy is incomplete. Social media is the place to come closer to your target consumers as people are constantly talking about things that cater to their needs. It is how you communicate with them with your words and insights and how beneficial you become to your trust.
Social media provides ample opportunities for brands to get engaged in meaningful conversations with their consumers. Any dialogue can start from how much they love your product or service and also how you can improvise your quality. This way, you will be able to make new strategic changes to your product or service line and take a new course in social media marketing strategy. Need proof? Look at your posts from last year up till now; if the pattern is same then you change it and if the pattern is at par with the latest trend then you are at the advantage of being able to hack it for your company's growth online.
When you are getting a lot of positive feedbacks, then analyze the points that have clicked with them. Since the customers share a good lot of information, you will be at a convenient end to grasp to a lot of USPs that will come handy for your product marketing.
In the case of any negative feedback, listening tools for social media can help you handle the PR disasters so that your brand can avoid any such mishap from occurring in the future. Look for the root cause from where the dissent had started taking place and make changes to your strategy or content and rake in more engagement.
Tools help a lot in social media listening as they provide an in-depth glimpse of the understanding of people around your brand. Even when they compare you with your adversaries (which you are not allowed to do in open platforms), you can easily get hold of their views and even come across points that you were unaware of your products or services.
You are covered by the experts
Lack of the resources to dedicate your activities towards social listening? Keep your worries at bay with the help of professional branding agencies that will work on your behalf. By implementing trained experts backed by competent tools and strategies, your social media marketing strategies will definitely receive the reach you have desired.