[responsivevoice_button rate="1″ pitch="0.8″  voice="UK English Male" buttontext="Listen to this Blog"]
So, here are how the headlines are looking after India's TikTok Ban right now:
India's TikTok Ban May Have Wider Consequences For China – [Source]
TikTok distances from Beijing in response to India app ban – [Source]
TikTok predicts over $6 bn loss from India's ban: Report – [Source]
Hi, unlike sharing our insights on the technicalities and knowledge on the aspects of digital marketing every month, A1 Future has decided to explore the pot-boiling trend of India's TikTok Ban and its impact on the company.
So, before beginning, let's put the light on as to what led the mighty sub-continent take this monumental decision to ban TikTok along with other 58 China-based Apps.
What Made India Take This Decision Of 'Digital Strike' As It Is Being Coined Right Now?
The global resentment against the mighty 'Red Dragon' – China started with the spread of Coronavirus. The global economy, that was already preparing for a recession, received an overnight blow in the face when every country put a halt immediately on their economic activities.
Malls were closed, tourism was shunned, people were put inside their houses for an uncertain period. That phase itself blew the bugle of countries who spoke unitedly against China.
In case of India, the struggle was far more direct – how?
"Trade figures suggest that India is the biggest importer of Chinese consumer goods. India imports almost seven times more from China than it exports to it. India has huge trade deficit with China – it's largest with any country. In 2018-19, India's exports to China were mere $16.7 Billion, while imports were $70.3 Billion, leaving a trade deficit of $53.6 Billion.
It needs to be acknowledged that China's exports to India account for only 2% of its total exports…"
– [Source]
India's war cry against Chinese goods came after a recent military stand-off at Ladakh's Galwan. The aggression shown by both the countries put wrinkles of worries in the faces of every economy out there because it would have been devastating.
As the war-like situation escalated quickly, India struck back China by banning its 59 apps, including its very popular home-grown entertainment video app – TikTok.
What Was The Reason Cited For This Digital Strike?
In an order communicated via Press Information Bureau or PIB, it was issued that these apps were
"…'malicious', citing several complaints against these Apps for reportedly enabling unauthorised transmission of user data to servers situated 'outside India'. The reasons stated in the notification are that these apps are engaged in activities which are prejudicial to user privacy and the sovereignty of India.
Even though the app is still available on the phones of existing users, new users are unable to access it. Further, the Ministry of Information and Technology is in talks with the Department of Telecommunications to operationalise the geo-block…" – [Source]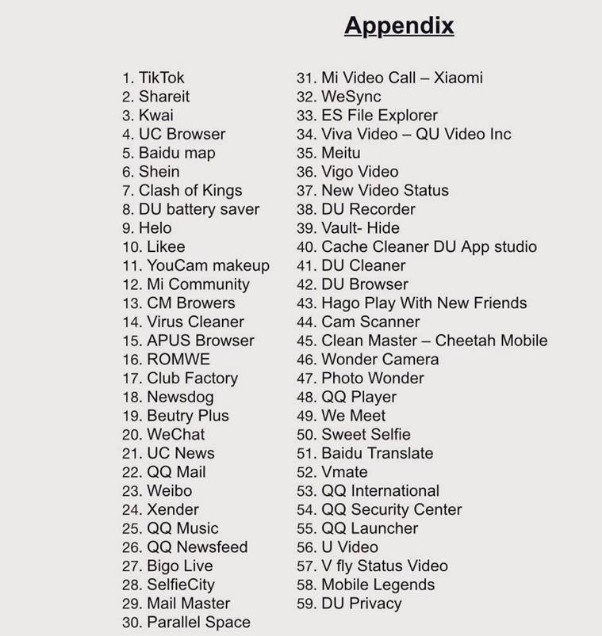 Let's Fathom The Popularity Of TikTok In India
"Indians are bitten by the TikTok bug as the app makes it easy to create content using nothing more than a phone," — Prasant Naidu, founder and CEO of the Bangalore-based digital technology consultancy Lighthouse Insights
Tiktok had more than 200 million users in India as of December 2019. The Rural and semi-rural population of India were mostly found to be utilizing this platform to mimic their Bollywood idols, recreating their favourite songs with them in the limelight. In short, Tiktok gave them the reality platform to live and share their fantasies to the audience.
This also paved the way for brands to inject the concept of 'Influencer Marketing' for hacking the popularity of some known content creators to extend the reach of their products and services.
TikTok became a significant app for many brands to strategize digital marketing plans for their offerings across the semi-urban and rural population mostly and it worked too.
Considering the phenomenal success of TikTok amongst the Indian audience, several top app development companies attempted to replicate similar apps on their own.
Here are some mind-blowing statistics about the app's feat as a (social) marketing medium:
Over $456 Million have been spent buying coins on TikTok. —  [Source]
TikTok is the only top 5 social media app not owned by Facebook. —  [Source]
The top 50 TikTok influencers have more followers than 16% of the world's population. —  [Source]
India, contributing over 30% of TikTok downloads, is a huge driver of the app's growth. — [Source]
TikTok lost $8 Million in one week during the brief India 2019 ban. — [Source]
TikTok has Highest Social Media Engagement Rates Per Post. — [Source]
TikTok has truly entered the international stage and is now available in 39 languages. — [Source]
90% of TikTok users use the app multiple times per day. — [Source]
TikTok 6th Ranked Video Player / Editor in India. — [Source]
Indeed 90.5% of Indian TikTok users in December 2019 were male. — [Source]
37% of US TikTok Users Report Household Income of More Than $100,000. — [Source]
So, How Is TikTok Doing In All This Mayhem? How Is It Affected With India's Sudden Strike?
Bytedance's TikTok had its fair share of controversy In India for allowing the users to create too many contents and catapulting them to achieve overnight yet short-lived stardom. But these controversies did not implement any existential crisis for the company.
But due to the recent aggression between the Indian and Chinese troops on the border, TikTok stands staring at two pictures, viz; its negative impact on popularity and also its valuation.
"To put things in perspective, India accounts for a sizeable chunk of TikTok installs worldwide. In April, TikTok hit 2 Billion downloads from Apple App Store and Google Play Store combined. Out of that India accounted for 611 Million downloads or about 30.3 per cent. According to mobile intelligence firm Sensor Tower, India even surpassed China in terms of downloads. China, where the app originates, accounted for 196.6 Million downloads, or 9.7 per cent — not including third party Android store installs." – [Source]
As per the recent reports of Livemint, TikTok's Chief Executive Kevin Mayer wrote a letter to the Indian Government citing,
"I can confirm that the Chinese government has never made a request to us for the TikTok data of Indian users. That data for Indian users is stored in servers in Singapore. "If we do ever receive such a request in the future, we would not comply.
The privacy of our users, and the security and sovereignty of India, are of utmost importance to us…We have already announced our plans to build a data centre in India" – [Source]
Experts opine that the loss from India's TikTok ban could result into nearly $6 Billion. In the years gone by since 2017, TikTok invested around $1 Billion in the Indian market and compared to this, the loss will be denting. The figure might be more as well.
While in India, "TikTok's advertising revenue in India grew by 50 per cent in one year"
In the list given above (in the picture), ByteDance, the other company of TikTok has two more apps – Vigo Video and Helo Chat enlisted. The Chinese media too are vocal about the huge impact to be incurred by the company in coming future.
It was presumed initially that India would only forbid new installations from app stores but later on, the clear idea of full ban that too permanently has clouded all the silver linings again. And as China went on to being vocal against this move by India, it was snubbed back for banning Facebook, Twitter & YouTube for so many users.
ByteDance could "miss out on another 100 to 150 Million first-time installs of TikTok in India"
This period of lockdown in India had brought a significant boom in India's internet precinct and TikTok tried to hack on to this growth fully to strengthen its stand in the country.
In the words of Akhil Bery, analyst with the Eurasia Group – "With only about 50% of Indian consumers online, India's market represents a massive amount of growth potential."
This ban will gradually prove to be a significant loss for ByteDance's advertising revenue alongside not receiving a slice of India's growing digital economy.
Indian users spent about $520,000 in TikTok this quarter, up 277% compared to the same period a year earlier.
Losing the ground in India will have ByteDance face knock-on effects because the US Lawmakers have already begun scrutinising the app under their stricter radars of law.
How Is India Looking After Its Mass Of Ex-TikTokers?
This is Livemint's headline on 3rd July:
Indian alternative to TikTok app registers over 1 crore downloads on Play Store
Right after the TikTok got uprooted from Indian app store, the home-grown alternative are gradually taking the limelight. The massive void left by TikTok are being filled by Apps like Chingari, Mitron, Tik Kik, Trell, Roposo, LitLot and many more to come.
These all apps are equally feature-enriched platforms like TikTok and they are promising the mass of ex-TikTokers with the same effects music database and the same convenience in creating contents again. And yes, just like the banned predecessor, these too stand a great chance of providing influencers the perfect platform to assist brands reach the lesser-reached area of the country; alongside making them sensations, once again.
Ban Or Not, Rely On The Good Old Traditional Hubs To Share Videos For Business Branding
To the most of us, we still go berserk on the very thought of using these apps for business purposes. In the B2B sector, online quick video makers can never be the choice to go for, unless you decide to go the overwhelming way of creating funky and funny videos. But again, they don't work for straightforward and serious themed B2B contents. Today, we still believe in the power of video hubs like YouTube & Vimeo when it comes to sharing business videos on. Moreover, in case of YouTube, it being a product of Google, will highlight your company's video through a unique keyword whereas, with TikTok alternative it is simply impossible.
The power to take the ultimate decision lies with you and we hope this blog helps you ahead with it.