[responsivevoice_button rate="1″ pitch="0.8″  voice="UK English Male" buttontext="Listen to this Blog"]
In a recent study by comScore, it is found that by the year 2050, all internet searches will be based on voice. Voice search is gradually gaining prominence in our daily lives with the increased sale of wearable IoT devices, smart speaker, watches and what not? With these transitions on the book, voice search optimization of contents has become indispensable for digital branding. We are slowly stepping into the voice-first world exactly how we transitioned into the mobile-first arena. The pace and way consumer search is changing; brands are now making voice search marketing a part of their branding strategy. Before reeling out the specifics in this topic, let's first refer to some data that reflect how optimizing website works today.
It is indeed a ripe time for firms to opt for voice search optimization strategy that will keep them ahead of the curve in competition. But how can voice search be used today?
The development of technology that recognizes speech has taken decades to come at this point. The advancements of AI, along with with ML in the last few years, have brought in significant changes in the practice of voice search. Here are some practical use cases of voice search:
A plethora of smart devices like lights, TVs, Phones, Tablets and even temperature controls are benefited hugely from voice search technology. Users are now centralizing all their devices into creating a single smart hub which can be managed adeptly by the smart speakers.
Many universities are now introducing voice-enabled speakers that are linked to every student's profile in the institution's account. The students in these tryouts can access any information related to them like:
Finding any services nearby
Setting reminders before any class
Finding out about convenience card balance
Fees information
Daily schedule
Amazon had Marriott teamed up for launching Alexa and use it for upscaling its hospitality services. This virtual concierge is helping the guests with services like:
Checking out
Making calls
Conducting local searches
Controlling the room's temperature or lighting
Seeking any assistance from hotel services
Why is voice search relevant? Why should we all care about voice search optimization?
Optimization of content for voice is different from that of general ones. As per certain studies, it is indicated that 1st organic search results based on Google's SERP spikes to 35.35%. There is a smaller window for voice search results as only the top link catches the attention of the technology. Ranking at the top means EVERYTHING! This is indeed the obvious indication that there will be a fierce competition among businesses to reach the ladder at the top. The challenge is how the millions are going to achieve that 1 spot.
A short glimpse of voice search trends
The phenomenon of voice engine optimization or VEO is a trademarked term of Chatmeter, which is equivalent to non-voice search engine optimization. The process of VEO optimizes the content's brand information & location that increases the result's likelihood to reach it faster. If you, as a business owner/associate think that the current scenario is too early to include voice-activated search in content formation, then think again, your ignorance might cost you big in the future competition. The image below demonstrates the reach of the voice search across different verticals in 2017.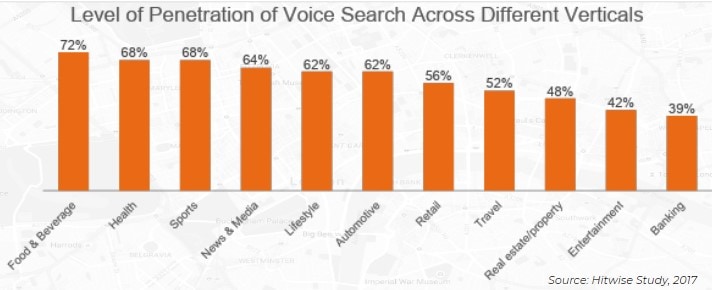 Image Source: Search Engine Journal
The source of information on voice-based devices
Amazon Alexa – Yelp
Google – Google Maps
Siri – Apple Maps
Microsoft Cortana – Bing
Voice engine optimization strategy: 6 Ways to extract the best results
Form contents that provide answers to a series of questions; for example, the FAQ page that pools in more traffic at a reading level.
Keep your content fresh with a regular update of the information
Mark up questions in H2 headers
Answer any of the existing questions (relevant to your industry) listed on Google My Business Q&A section.
Create and answer exciting questions about your offered products and services that will drive in more conversion.
Test the content that you have created following the guidelines of voice search optimization in the following ways:
Voice search on different smart devices like speakers, mobile, remotes and other voice-enabled controllers.
Analyze the results generated from multiple listings
Note down the most common questions that you are ranking and tally with the ones where your competitors are.
Base your content on the user intent. Analyze what people are looking for from your industry. You will get a clear glimpse of it through the enlisted queries in Google. Searched for the words like what is, how to, buy, price, buy, Search engines today are smarter than before; they also suggest people as to what else they may read. A voice assistant may not do it, but you can definitely get a hold of its references to form your content.
The evolution of voice search making way for voice search optimization
There was a time when voice search was conducted by calling a phone number and then communicating your search query to it. Only a few people actually used it and it was at the scale of infancy. Since that time, the technology of voice search started evolving.
In the year 2011, Google announced its new feature of voice search and at that time, it was accessed in English only. Today, more than 60 languages are supported by the tool.
With the Hummingbird update in 2013, the technology of typed and spoken search changed further, emphasizing on the natural language processing that aimed at matching the user intent substantially at par with the inquiry context. Since that update, the voice search technology has fetched accurate results and paved a concrete way for online marketing through voice search optimization.
Seek the experts who know it all
Digital branding is a vast area where different measures of content upliftment can be seen; VEO is gradually gaining pace as one of it. In a majority of cases, it is impossible for a business to carry on its own endeavors alongside its core activities. So for scenarios like these, it is wise to opt for getting help from digital marketing firms like A1 Future Technologies who promise to expedite expert strategies to fetch the desired results of success for you.