The most arduous task is to formulate offbeat social media content ideas and it is essential for a successful social media campaign.
Social Media platforms are transforming rapidly and keeping up with this growing pace you need to have innovative and excellent social media content plan to engage with your followers.
In this age of easy information acquisition, marketers are expected to continuously post different and exceptional contents to create interest amidst the audience. Social media content is the vital element of social media marketing. People want to receive quality information from the brand they follow.
Hence, it's important to provide interesting and value-added contents to your customers so that the audience get excited to share them and engage with you instantly. That's exactly why you need to have creative social media content ideas. Undoubtedly, the potency of your Social media is determined by the strength of your content.
Needless to say, it's tough to meet up with the expectations of your desirous followers. When as a marketer you fail to satisfy this insatiable requirement of your followers, your social feeds start to go down and you start losing the game.
Wondering how you would devise useful content for social media posts?
In this blog, we have compiled for you the best and the most intriguing social media content strategy. Read along and find out what content to post on social media to glide through the rough roads and make yourself popular amongst your competitors. Also how to boost your social feeds from growing out-of-date ever.
However, before digging out the most innovative social media content ideas, let's take a stride at how to use social media for small business?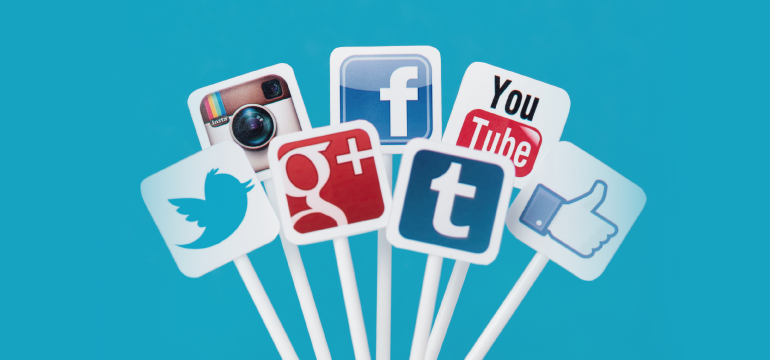 Social media ideas for small business
Social Media is the best source of small enterprises to connect with their audience. An effective social media campaign is one of the crucial marketing strategies for small businesses. The main aim of every SME is to interact with consumers on social media, engage them with the brand and finally increase customer base. The business owners using social channels are of the view that social media success does not depend on the number of followers but the intensiveness of customer engagement.
Now, let's try to delve into the stats and trends on what type of contents would appeal the crowd.
Here's a detailed study on how social users want a brand to perform in social media?
Customer involvement increases with exciting and frequent content posts. The primary element to increase audience engagement is to inspire a loyalty-driven bond between your followers and your brand. Remember whatever action you take on social media it would influence your consumers to buy your product.
Here is a study that shows what types of contents a marketer must post on social media. It's essential to have knowledge on the behavior of your users because that's what would decides your brand. Further this knowledge would also influence your consumers either to choose your brand or unfollow you.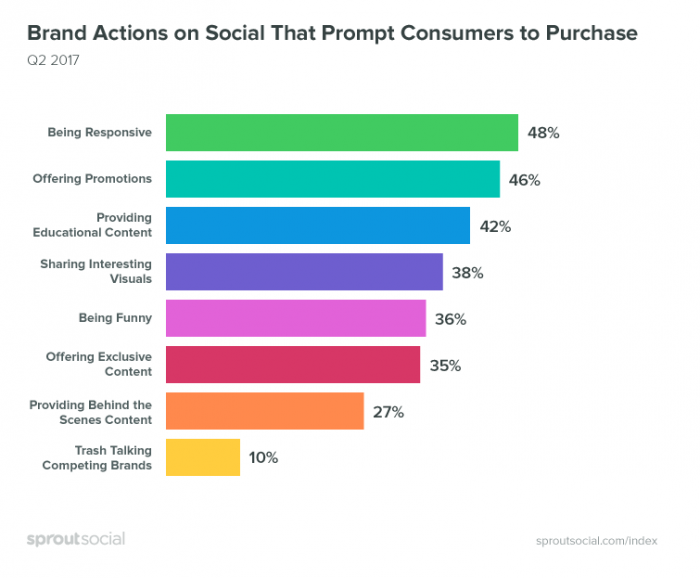 Source: Global social media research summary 2018
How to do it?
It's simple; experts are of the view that you must create a brand personality that is friendly, helpful or humorous. In recent times, customers want their preferred brands to use social channels as a customer care platform. A study conducted by Sprout Social shows that a follower appreciates a brand if it can bring a smile on his face being humorous, has the capability of helping him at the times of needs or guide him as a friend in his stressful situations.
Creating brand personality is one of the best methods that extend beyond voice and tone. Brand personality is what connects your product to its consumers. In addition to that, it reflects what your brand stands for. So you need to develop a unique brand personality by creating content for social media.
Social media is increasingly being used as a customer service platform where customers and potential customers want answers quickly and in real-time.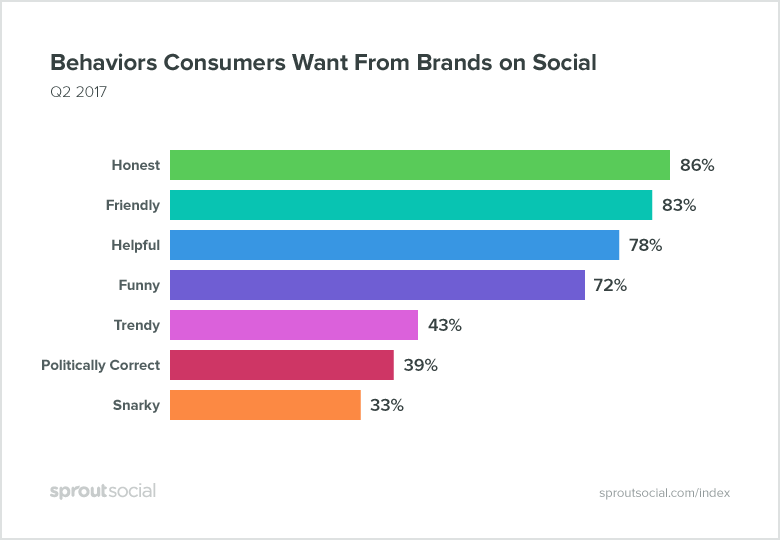 Source: Sprout Social 
Sprout Social conducted a recent consumer survey and found that around three-quarters of consumers believe there's value in brands exhibiting humor on social while only one-third want brands to be too snarky with their contents.
Most popular social media and effective social media content strategy
Online survey reveals that different social network require specific handling.  You cannot use similar content ideas for Facebook as you would use for Twitter or Instagram. Also, according to market research, a marketer should create an account only on those social media channels that receive maximum amount of users. The number of users will determine your number of followers and in turn there will be an increase in conversion too.
Below is a statistical data that shows Facebook is one of the most popular social media networks compared to other social platforms. It receives a maximum amount of daily active users (in millions). YouTube is in the second position with WhatsApp and Messenger not far behind.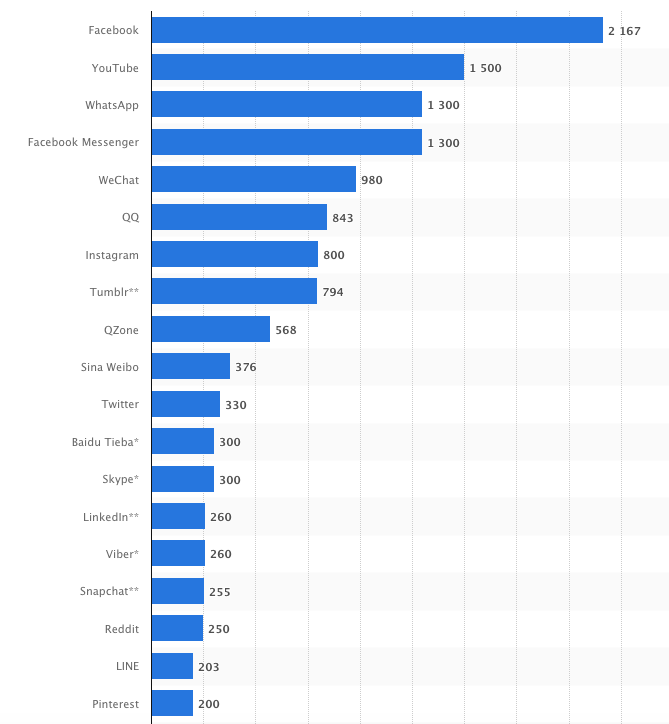 Source: Global social media research summary 2018
Based on the above details we infer that it's crucial to know what type of content would potentially perform well on your platform.
Want to increase your reach amongst your consumers and boost your social media content distribution?
Here are 12 ways to come up with social media content ideas 2018 that your audience will love.
People on social media get bored with monotony, they give less importance to the not-so-special post.  They don't click like or share button if they are not that impressed with your content. Therefore, use the following content ideas for different occasions. One day you might consider posting Podcasts, while on the next you have charts and graphs in store. As a smart marketer, you can further conduct contents, polls or post VR contents.  You can schedule your posts with social media management tools for more success.
1. Post Graphs and Charts for Engaging Your Followers
Charts and graphs are the pictorial descriptions of statistics and facts. In one occasion you can consider posting these self-explanatory images. Find interesting studies of your industry and turn them into graphical representation or chart. This way your followers would get a clear insight of the industry they are following. They can quickly learn about the key findings from the study just by looking at the chart. Charts and graphs are ideal for social channels like Twitter, Facebook, Instagram, LinkedIn, Pinterest and Google+.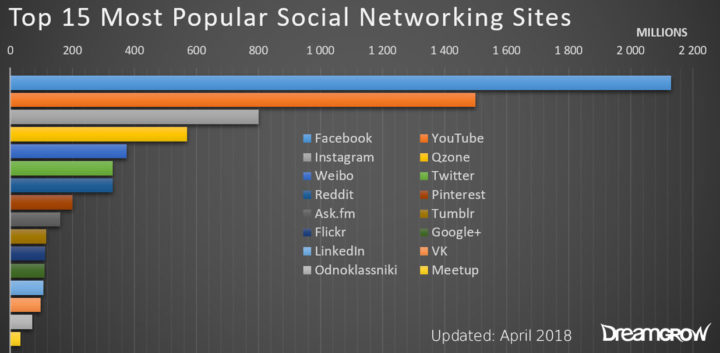 Source: Top 15 Most Popular Social Networking Sites and Apps 
2. Manage a Social Contest on Your Social Media Accounts
Contents that kindle emotions in an individual are posts that are related to contests. Social media experts state that such posts tend to generate the most engagement from the followers. You can organize a social competition and ask your followers to tag their friend or comment on the piece. You can announce gifts for the winner in your wall. Followers who fulfill your criteria can either win your free product or receive gift vouchers.
You can use this type of post on any social platform including Instagram, Facebook, Google+ and Twitter.
Mentioned below are a few things you can ask your followers to do while they participate in the social media contests:
Comment on the piece
Share your post
Tag a friend
Post a photo and use your company's hashtag
Tweet with a hashtag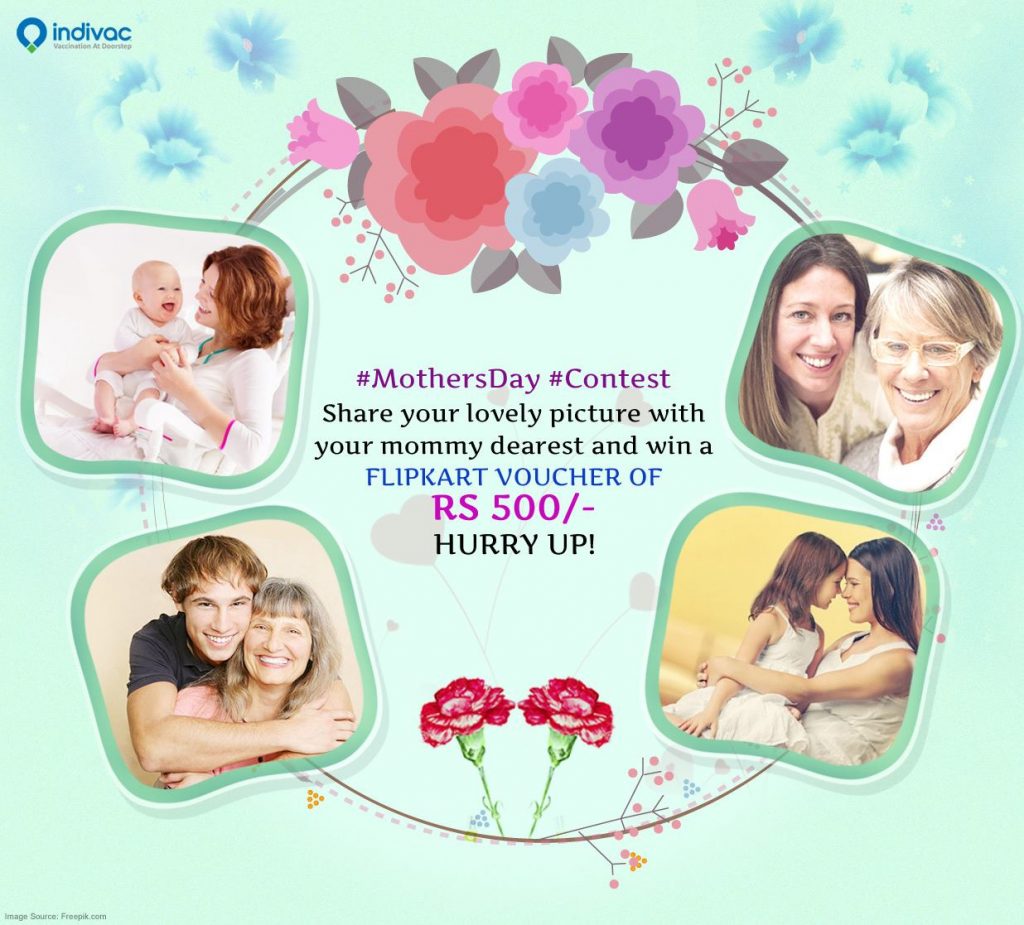 Source: Indivac
3. Audience Poll Boosts People's Engagement
Want more and more people to love your posts?
Involve your followers in polls. Carry out a poll where you can ask your followers what they would love to see from you. Ask them what you should share on social media. According to psychology, people would fundamentally appreciate this gesture of yours. This way your followers will get involved with your brand and start loving it. Such poll posts are suitable for Facebook (Group), Twitter as well as Google+.
Take a look below and find ideas how to use polls to engage your followers:
Create different polls for various platform, e.g., Facebook has a specific requirement than that of Twitter and vice-versa. Research shows that polls are the best options for companies to engage and entertain your audience.
Experts suggest adding at least two or more than two choices in the poll for your followers. You can use emojis or witty options to display personality and catch the attention of people who visit your page to scroll by.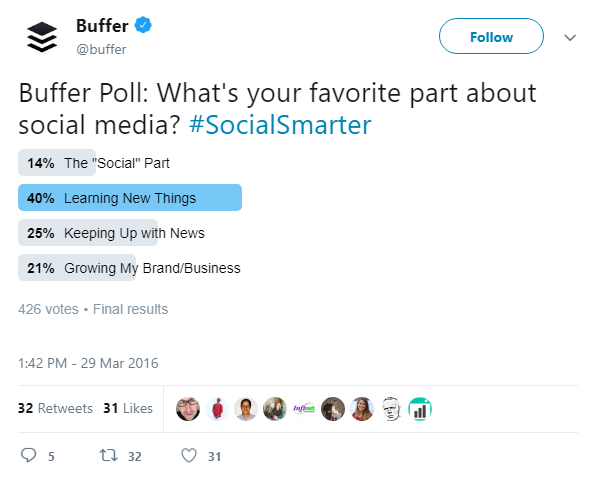 Source: Buffer
4. Ask to Provide Suggestion or Frame Question
Another proven way to engage your followers in social media platform is by enabling them to ask questions or ask them to put forth their suggestions and ideas. Every person loves to help their chosen brands, hence if you ask your followers to help you while writing a blog post or ask your followers for feedback or suggestions they would appreciate the idea and would get more involved with your brand. Such polls yield great results in platforms like Twitter, Facebook, LinkedIn and Google+.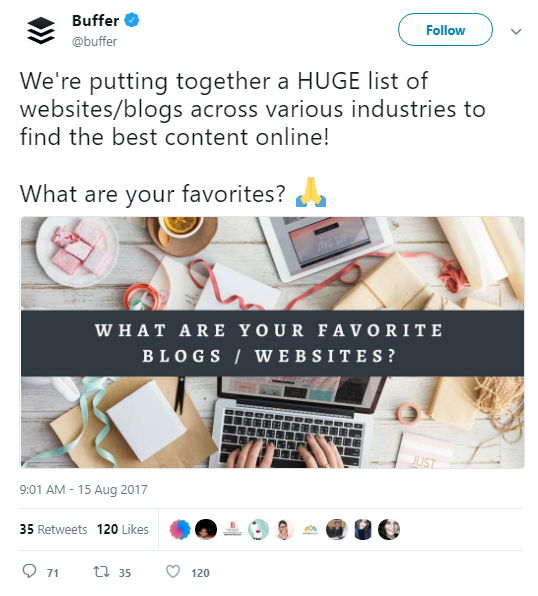 Source: Buffer
5. Create Innovative Caption with Your Blog Lists
If you want followers to get connected to your brand, you should introduce them to your blog posts.
How to do it?
Extract the main points of your blog and create a list. Further, use this list in your caption to invoke interest amongst your followers. This is the perfect way to inform your followers about your blogs. People can get an in-depth glimpse of your social media post about your blog content. Users have an account on social platforms like Twitter, LinkedIn, Google+ Pinterest and Facebook.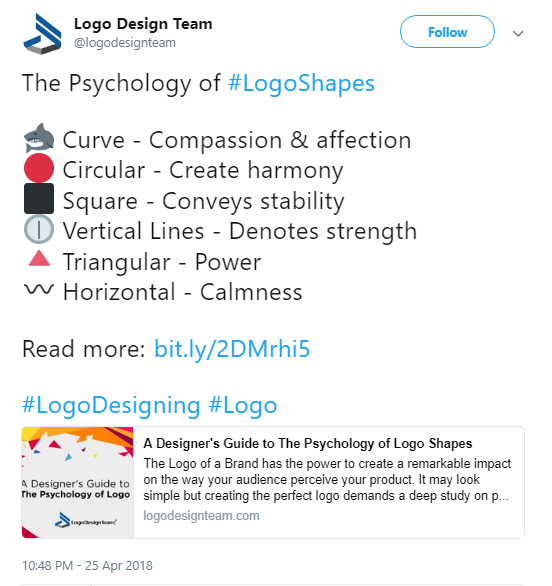 Source: LogoDesignTeam
6. Emojis or Symbols Appeal to Customers
Nowadays emojis are an integral part of social media language. They are preferred by all as they are the great way to connect and engage with your followers. But before incorporating emojis, you should consider if it's aligning with your brand image or not. Best option to try is to use emojis at the end of your social media posts. Whether you have an account on LinkedIn, Facebook, Twitter, Pinterest or Google+, you can use emojis to interest more clients.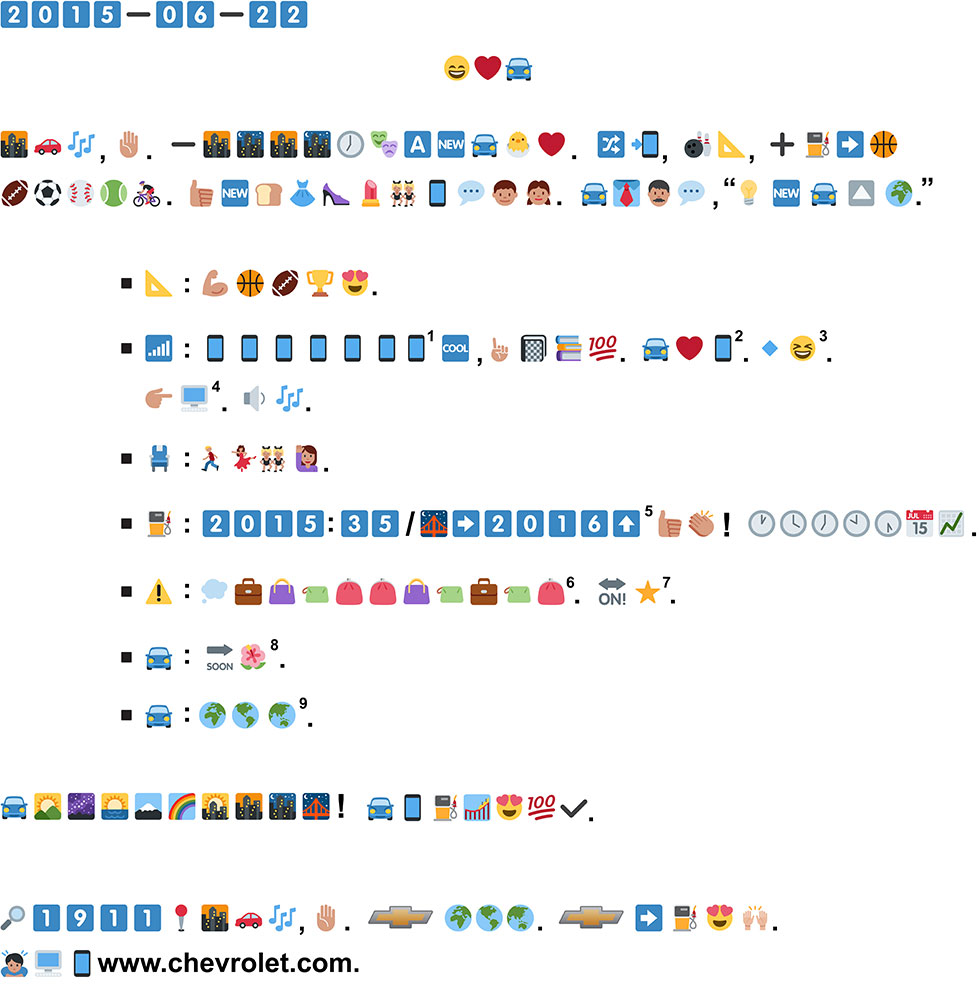 Source: 7 Ways to Use Emojis in Social Media Marketing
7. Followers are More Receptive to Interactive Contents
Content marketing strategy has increasingly seen major changes over the years. In recent times interactive contents have been doing wonders. People are seen relating more to such materials in social media.
What are interactive contents?
SnapApp says, 'Interactive content: Content that requires the participants' active engagement – more than simply reading or watching. In return for that engagement, participants receive real-time, hyper-relevant results they care about.'
Interactive contents are those that refer to products and services available on digital computer-based systems. These contents mainly respond to the user's actions by presenting content such as moving images, animation, video, text, games and audio.
Social media experts are of the view that interactive contents are one of the best ways to entertain, educate and engage your followers. These are the interesting content for social media. People prefer such contents because they can take active participation. In addition to that, with these types of contents the participants receive real-time, hyper-relevant results they care about.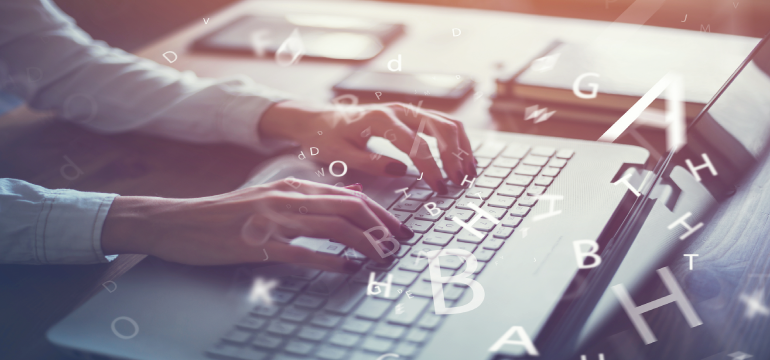 8. Infographics – Captivate Followers' Attention
Schedule some of your social media days for posting Infographics on your social channels. Statistics show that Infographics are among the most shared content on social media. Several studies also report that infographics are more viral than presentations.
What type of posts typically receive a lot of shares?
In a social media campaign, infographics receive the top position amongst social media content ideas.
Infographics are preferred much amongst social media content marketing because these items have the power to simplify a complex concept and present them in an easy-to-understand form. These types of contents are colorful that's why they are attention grabbing too. The most intriguing part of an infographic is that it can also be turned into motions and create video infographic to add more variety to your social content.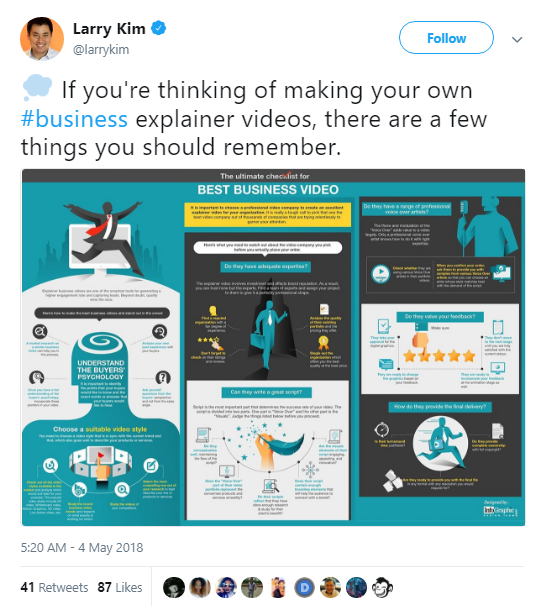 Source: InfographicDesignTeam
9. Podcasts – Another Best Social Media Content Idea
Podcasts are considered to be the new form of radio because these components have elements of audience engagement just like the yore days radios. In social media, podcasts are on-demand today for being the most engaging content for social media. Podcasts are best for loading in Instagram.
Hence on some occasions, you can even consider posting podcasts with your industry-centric information. Many online marketers predict that 2018 will be a big year in podcasting.
However although popular, Podcasts have several cons too. When you consider using the podcast to engage your followers on Facebook or Twitter, you might pose issues while uploading.
Here are a few steps you need to follow:
You can create a static image and place the podcast audio over the top then upload as a video.
Share the link to the podcast.
Find out what your audience can get in return for each episode and then create a video with the podcast audio over the top of a static image.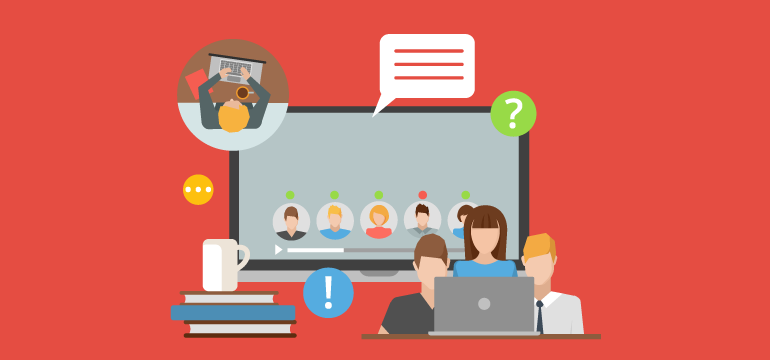 10. Contents that have an element of Virtual Reality
VR or Virtual Reality is the in thing today and you can create VR contents for maximum effect. In social content marketing, VR contents have a significant position for being the good content for social media. Of several late brands have been using VR contents as enjoying a positive result. Interestingly, these brands are receiving increased follower engagement. In addition to that many brands are also there who have been using Virtual reality to create interactive content to introduce uniqueness to the content marketing plan.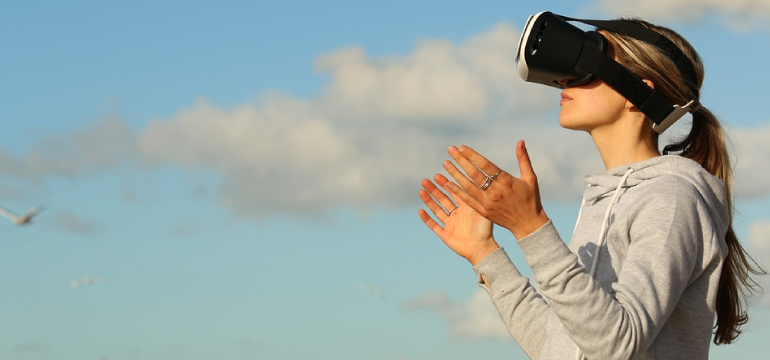 11. Post GIFs
Many brands have received results by posting GIFs in social media contents. It is proven that social media users prefer funny and eye-catching images instead of static images with a blog post. GIFs are well-liked by users because they are autoplayed version and hence  they stand out amidst other types of images grab followers' attention. Link relevant GIF to your tweet or post in Facebook for more amazing results. GIFs can be used in  Facebook, Google+, Instagram and Twitter.
Source: Airtel Run For Education
12. Memes can Make You Prominent
On some days you can even consider posting funny memes. These kinds of posts will make you a recognized brand. Your followers will appreciate when you make them laugh and enjoy serious news this way.  Try sharing a meme related to common problems that your audience is experiencing or you might relate the memes to everyday struggles also.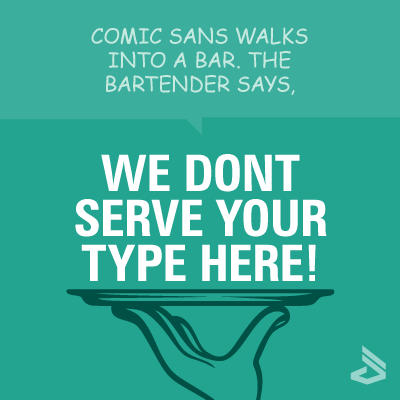 Source: 10 Hilarious Comic Sans Meme to Light Up Your Day
To wrap up
So, if you want your brand to acquire a top position amongst your competitors create interesting contents and turn your audience into an ardent brand follower. Invest more time in posting unique social media contents. Now you don't have to worry much about what types of materials you should post. We have researched and have prepared the above compilation for you. Check it out and think innovative.
Get your own social media contents
When you run out of ideas, you can visit A1 Future for professional advice. All staffs here are diligent and will provide you with the best social media solution for your brand.
Good Luck!