Have you ever considered the possibility of Facebook Messenger Marketing?
Over the years Facebook messenger has evolved as one of the go-to marketing tools. Today, many business personnel are using Facebook for business in many different ways. Likewise, as a marketer, you can also integrate Messenger into your marketing campaign and enjoy the perks. You can send out your latest blog posts through Messenger and engage a large section of people.
What is Facebook Messenger?
Facebook released an instant messaging service in August 2011 for helping people to communicate conveniently. Unlike other text messaging apps, Facebook's Messenger has several other features besides sending texts. Interestingly, as Facebook Messaging app and website is different from Facebook.com, to use Facebook messenger, you don't have to be on Facebook's website or even have a Facebook account.
Messenger is an easy to operate application; a user can log in through Messenger.com or can open it from the mobile app on Android and iOS. An iPhone user can also take the benefit of using Messenger as it also works on the Apple Watch.
You need to install some extensions in some browsers so that it becomes easier to use. For e.g, a desktop app chrome users can use Facebook in its window. Firefox users can put Messenger on the side of their screen and use it while on other websites but in a split screen fashion.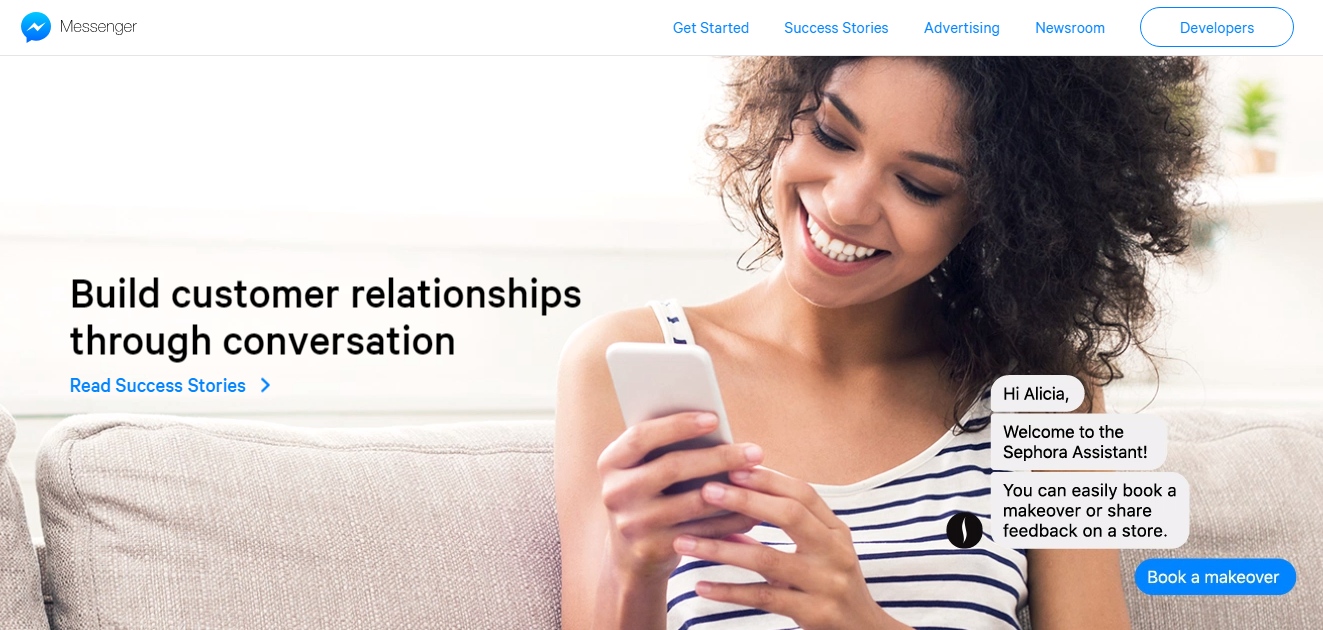 Why should you use Facebook Messenger?
Social media evolved with many networks, but it's not just about having an account on the platforms like Facebook, Instagram, Twitter or LinkedIn. The social channels have more to offer to its users – the messaging apps.
Of late, Facebook Messenger has become one of the most influential online tools for brand promotion and customer engagement. In a survey report published at 'The Future of Facebook Messenger for Business in 2018' showed that messaging is the second-most popular form of communication and interacting tool for brands.
Reports state that Facebook Messenger receives around 1 billion messages from the consumers. Hence, businesses can use these valuable opportunities to communicate and connect with your target audience.
Messaging is relatively a new marketing tool in the present moment. According to several online reports, with the use of messaging platforms, many businesses have increased their customer acquisition in the recent years. Witnessing the exponential growth of Facebook Messenger usage more and more people are choosing chat apps as their preferred method of communication and brand advertisement.
The most significant feature of Facebook Messenger that contributes to making it one of the best online tool for the marketing campaign:
Facebook's Messenger Has Over 1.2 Billion Monthly Active Users
This feature makes Facebook Messenger one of the favorite places for brands too. As a marketer, you can become a member and pitch your target consumers amidst this vast cluster. Thereby you get access to a large client base.
Are you still wondering how to use Facebook messenger for marketing?
Here are some Facebook marketing tips and tricks for you to understand about Facebook Messenger marketing.
Mentioned below are 8 Facebook Messenger marketing strategies that you can try for your business today:
1. Advertising on Facebook messenger
The chat-oriented feature of Facebook Messenger has made it the part of many brand's advertising strategies today.
Facebook messenger ads are ad features that have evolved recently. These ads enable the Messenger users to see your ads and eventually develop an interest in your business. Finally, they initiate a text conversation with you for further interactions.
You can  benefit from the following different types of Messenger Ads:
Destination ads
Sponsored messages
Home section ads
All these ads are designed for advertisers to start conversations with users and drive engagement and sales.

2. Distribute your content to a wider section
Facebook messenger is one of the most significant places for posting your contents. Although the most used technology for sending materials to the target audience are emails, yet the Messenger strategy shows  a '242 percent higher open rate and a 619 percent higher click rate of the contents sent through Facebook messenger.'
To make Facebook marketing strategies even more useful, experts suggest of creating a Facebook messenger marketing bot to deliver your content.
3. Assist your followers to find the most appropriate content
Use Facebook Messenger to help your followers to pull your shared content to themselves. This is one of the successful marketing strategies – companies make use of  Messenger chatbots who help their followers to find articles that they want to read.
This is considered to be an unobtrusive way to deliver personalized content to your target audience.
If you want to make use of this strategy, take a look at the following principles:
Establish your site as a mobile-responsive one.
Provide precise information about your contact address to your customer. Let them know where to get additional help as and when required and your contact details where you provide customer support.
It's a good idea to add browsing menus; this feature would make it easier for users to find content that they're interested in.
Chatbot plays a crucial role in Facebook Messenger. It's better to treat your chatbot like content marketing.  Your primary focus should not be selling your content but send them to the users on your site.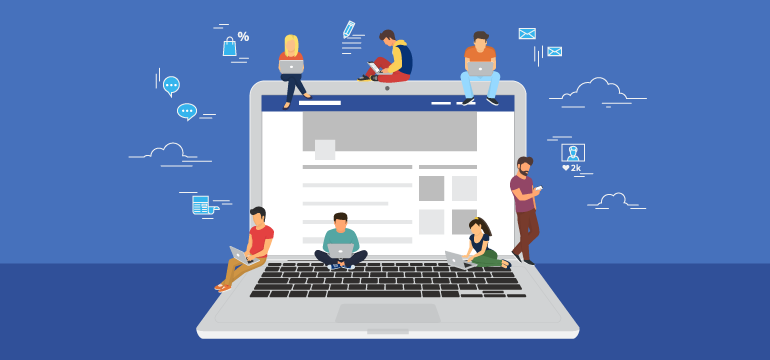 4. Inform your followers about your business events
When you are using Facebook for business, consider using Facebook Messenger also. This is a useful platform to send important information and reminders about your business events to the people and ask them to sign in.  Companies who have been using the strategy of marketing with Facebook messenger have seen the response rate go up significantly than that on email.
5. Create premier sales leads
Since its inception, Facebook Messenger has the quality of attracting a great deal of people's attention. This further helps to generate sales leads that are sure to convert. To establish the fact  Dmitriy Kachin from Chatfield ran click-to-Messenger ads. According to his findings 'the response rate on Facebook Messenger is incredibly high at the moment conversation with a chatbot that would ask a series of questions compared to emails.
6. Re-involve your prospective clients
Create loyal consumers through Facebook Messenger. Foster existing relationships with your clients by providing up-to-date contents as well as sponsored messages. Sponsored message lets the users initiate a Messenger conversation with anyone who has messaged your Facebook Page before. Using sponsored messages you send promotions directly to those people with whom you are already communicating in messenger.
The Facebook Messenger ads re-involve your prospective clients – those people who have visited your pricing page but didn't purchase your product or those users who have asked you questions via Facebook Messenger before.
This ad format is considered to be the best way to re-engage those users who matter to your business in a conversational way. When you run sponsored messages on Facebook,  plan to use responsive messages and re-engage your customers.
You can refine these campaigns by creating Custom Audiences or interest targeting. You must have a large audience to make sponsored messages strategy a  success.
7. Create interest of your target audience with one-to-one communication
As the News Feed is getting stuffed with ads its driving away the audience. Most and people are changing track from Facebook every passing day. It has become rather difficult for companies to reach to their target clients. But with Facebook Messenger, a band gets the scope to be able to reach to the target audience without any noise.
With Messenger ads, communicate on the one-to-one basis with your target audience and make them more inquisitive about their lessons.
8. Use Messenger to provide timely customer service
Do you know that with Facebook messenger campaign you can provide timely customer support to your clients and keep them happy always? When people are contacting you through the Facebook messenger, use it as a tool to ease customer's problem within seconds. This way your customers get an advantage of receiving a fast solution and needless to say they prefer this facility and appreciate your approach.
Conclusion
If you are still not into Facebook Messenger, you are losing something in your marketing campaign. Whether you have years of expertise or are a start up the latest strategy is- you must be using Facebook Messenger marketing to generate more leads for your business. The tips mentioned above are indicative. Use your marketing strategies based on Facebook messenger in your business to gain more.
If you want to know more about digital marketing, you can visit A1 Future.com for detailed guidance with useful online marketing tools to attract more clients and keep them engaged to your brand.