Twitter tools are vital for assisting a social media expert in growing his Twitter presence and reaching to the target clients more dynamically.
Without using proper tools to manage Twitter, you might face the following threats:
Miscommunication among team members and potential clients.
Slower communication process.
Losing leads and customers.
Become inefficient in grabbing the attention of target followers.
That's why as a social media manager, you need powerful twitter management tools.
Twitter tools for social media marketers are devised to help them to accomplish the following tasks:
Track those tweets that have company relevant keywords.
Recognize important followers.
Get approval for tweets before publishing.
Authorize tweets to the right person for follow up.
Make sure all queries are appropriately responded to.
Schedule tweets accordingly.
Receive actionable analytic for improved results.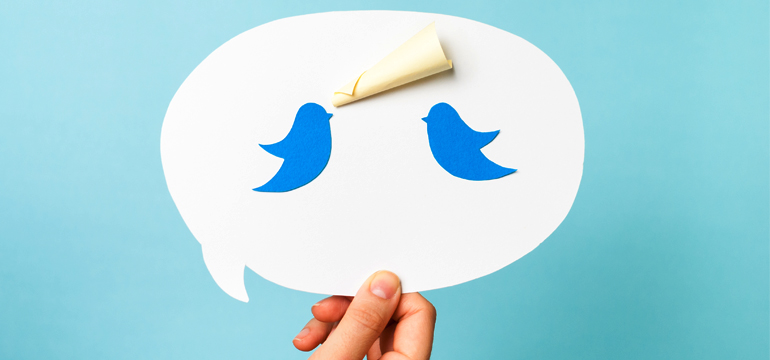 Twitter is one of the most crucial marketing channels. Like all other social media, this platform also serves as an excellent source of interaction through advertisements and brand promotion. But sometimes the process of increasing sales or extending a broader reach to the target audience becomes a daunting task. So, to stand tall among your competitors you have to plan unique strategies. To help you glide through in the cutthroat, well known social media companies like HootSuite, Seesmic, TweetDeck, etc. have come up with useful twitter tools to make your Tweeting lives more accessible and efficient.
With the myriad of Twitter marketing tools available in the online world, it's quite demanding to choose the perfect match for your business?
Then how would you find the best Twitter tools?
In this blog, we've created a list of top 9 Twitter tools powering social media experts in 2018. These top twitter tools are widely used and recommended by the industry experts. Read to know more about the best Twitter management tools 2018 and how it will affect your presence in social media:
1. AgoraPulse will rule in 2018
AgoraPulse has been helping social media experts with a myriad of features combined in one. This fast emerging social media tool supports Facebook, Instagram, LinkedIn along with Twitter. This twitter tool is preferred by almost all industry experts because it provides a complete solution as a Twitter social media board.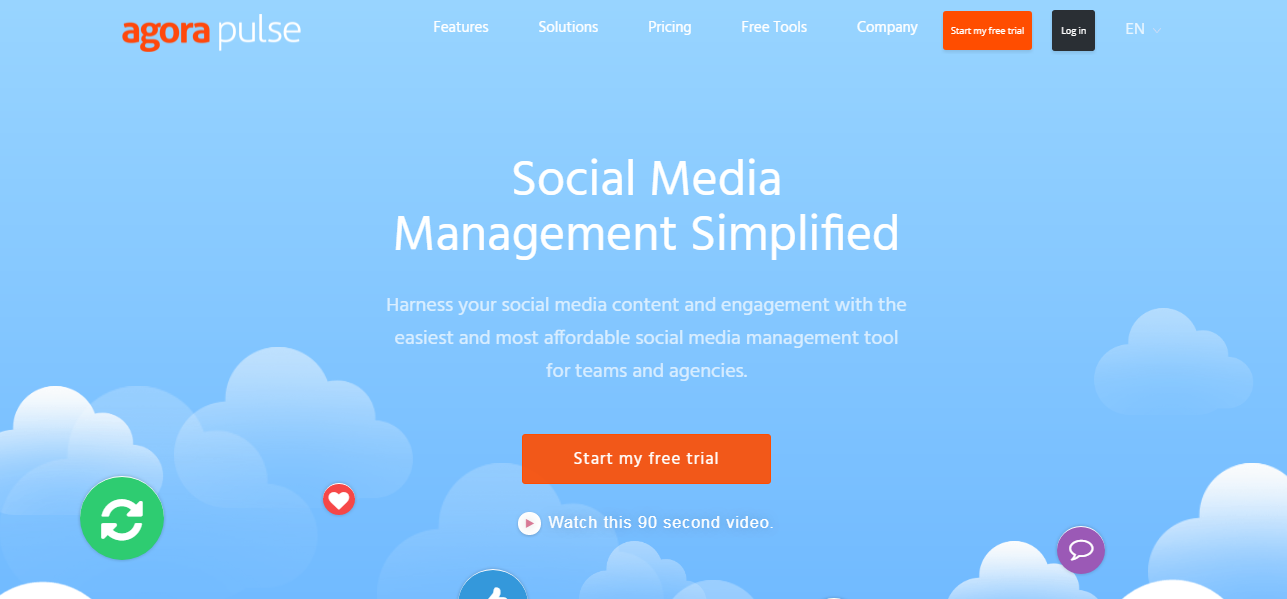 Today AgoraPulse has earned the reputation of being the top recommended tool. Following are the features of this excellent tool :
Tracking all tweets mentions from a particular screen.
Lineup post and social media calendar.
Repeat schedule posts and prevent repeat sharing of the same content.
Allows you to use templates to reply to tweets.
Comprises a team feature that allows you to assign tweets to your team members.
The advanced monitoring feature enables you to track all tweets which share an article on your blog or website.
You can manage a vast number of social media profiles also.
Automatically deletes all your spams and provides you the opportunity of getting rid of unnecessary trolls.
Essential and most liked features: it offers Chrome extension.
2. Rewst – Increase your followers in 2018
As a Twitter user, it's natural tendency to look for ways and increase twitter followers as fast as possible. Rewst serves as an outstanding tool among all other twitter tools to increase followers. It assists you to grow the desired number of your twitter followers.
Let's take a look at how Rewst growth tool helps you increase twitter followers.
Rewst aids in strategizing methods to tweet more powerfully. With this tool, you can find out what topics attract your followers.
Rewst also helps you to track down and follow relevant Twitter users. Further according to the Copy Followers strategy, you can get some of these users to follow you back.
This way Rewst monitors on your Twitter followings and followers and makes a list of all those whom you follow, but they don't follow you. You can unfollow them as well with this particular growth tool.
3. HootSuite – The most recommended amidst all Twitter tools
HootSuite is an impressive twitter management tool that enables the users to manage multiple social media accounts- LinkedIn, Facebook or Google+ all at once. Also if you have lesser than five Twitter profiles to manage Hootsuite is a perfect choice. HootSuite is used by almost all social media experts to enhance their social media strategies. According to the experts, Hootsuite ensures better Twitter Management for marketers.
Kristi Hines (freelance writer, blogger, and social media enthusiast)says, "HootSuite is one of my personal favorites as far as Twitter management is concerned, and is also quite popular amongst the social media elite."
Are you losing track of the growing number of follower engagement you get? Then it's ideal to use Hootsuite. This freemium Twitter marketing tool helps you to manage your twitter accounts effectively.
According to Neil Patel (favorite author, entrepreneur, marketer and blogger) mentions that the primary purpose of using Twitter is to build a following and create social media engagement as often as possible. So, it's necessary to monitor these engagement opportunities that arise.
With this powerful social media management tool, you can personalize columns to view multiple feeds from the same social networking account. Or you can even use the tool to see many feeds from your different social networking accounts.

In addition to that, HootSuite enables you to create a message and choose which social accounts you want the message to be automatically posted to. Hence, managing twitter network becomes more exciting and profitable with this tool.
Take a look the some of the features of HootSuite:
Identify your target customers: It's apparent that you would like to create a specific type of follower list. Hootsuite enables you to import, create and share lists.
Enable team members to manage single account: If you want your team members to manage your account, Hootsuite provides you scope to assign tasks to your respective staff. Additionally, you can even create restrictions on who can post messages or who can read your messages.
The above features are available if you are using HootSuite freemium. However, you can also use HootSuite Pro. The Pro version helps you manage unlimited social profiles and offers you the following features:
Custom URLs for Google Analytics: If you plan to be a Pro user you can add custom data variables and get measured in Google Analytics.
Keep a record of your tweets: Do you want to archive your tweets? A Pro user can preserve the record of those tweets for future use.
4. Buffer – Schedule your tweets
It's one of the most handy tools to manage twitter after HootSuite. Buffer is ideal for the process of scheduling tweets in a simpler way. When you work with this tool, you can create a schedule to post your tweets.
If you are one among those who tend to tweet in a chunk and that too in a short span of time, then Buffer is best for you. However, this process of tweeting too much might drive away your valuable followers. Hence you need useful tools to manage and distribute your tweets efficiently. Buffer is one such tool that enables you to schedule your tweets and spread them throughout the best performing times of the day.

With a balanced tweeting schedule, you get the attention and there will be a considerable increase in your following list too. Buffer is a freemium tool and it allows you to have around 10 posts for free including one Facebook account, Twitter account, and one LinkedIn account.
Listed below some of the many benefits of Buffer:
Allows you to understand if your tweet schedule is successful or not. Buffer's analytics tracks the stats on the number of clicks, potential reach, retweets, mentions, and favorites for each tweet sent through their app.
If you need to enjoy more benefits from Buffer, you can use the Pro version. Kissmetrics states, "a user can choose from the $10 per month Pro plan that allows 50 posts, six social accounts, advanced scheduling or the $99 per month Premium plan (unlimited posts and social accounts)."
Buffer makes scheduling tweets easy and keeps your account up to date. With Buffer tweeting becomes simple and you have more time to devote on other engagement strategies.
5. Commun.it – Significant marketing tool
Commun.it is another significant tool among the best Twitter marketing tools. It helps the users to send thanking notes to those followers who re-tweet their Tweets. Another most liked feature of Commun.it is – users can also send welcome messages to those followers who follow their Twitter profile.
If you want to find your most engaged follower, use commun.it. Besides, the above benefits you can also use this twitter tool for scheduling your tweets as an alternative to Buffer.
You can enjoy its free service to interact with around 20 people and get an idea about the effectiveness of your Twitter marketing campaigns. Among all other twitter tools for social media marketers, Commun.it automates a lot of things to increase the engagement of your Twitter profile.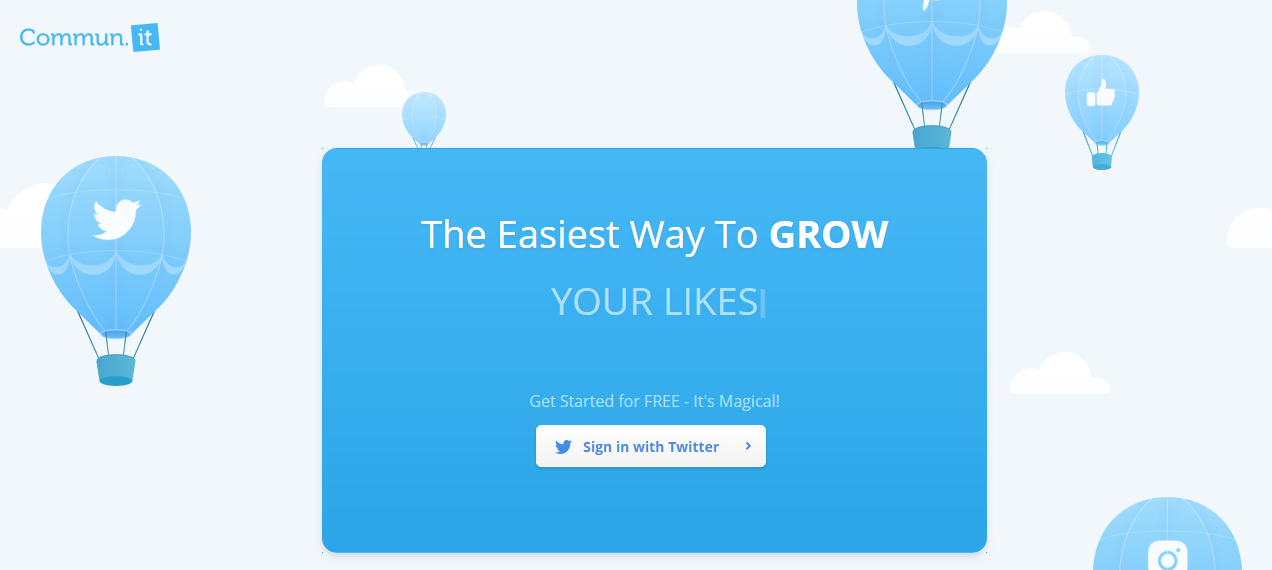 6. SocialOomph – Adding the oomph factor to your tweets
SocialOomph, as the name suggests adds an extra oomph to your twitter tracking and management. Although this tool consists of a lot of similar features as HootSuite, Buffer, or Timely yet it has its specialty which makes it ideal for Twitter users.
Hence it's recognized as one of the must-have tools for all Twitter users. Like AgoraPulse, Social oomph is all comprehensive tool but with little difference.
Here some of the features of SocialOomph:
Sends automated direct messages to new followers: Although Twitter doesn't recommend Automated direct messaging, yet with SocialOomph you can do it.
Automatically lets you follow new followers
Helps to communicate with recurring tweets
Delete direct messages or Tweets ( if required)
Highlight your new content
SocialOopmh is also a free tool. However, if you wish to have more advanced service, you would have to become a member of the paid account. This tool is a little more expensive compared to other Twitter tools.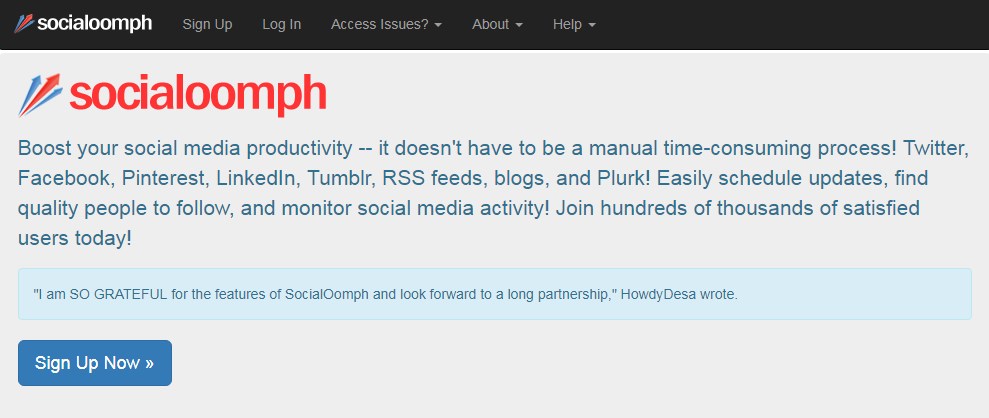 7. Ninja OutReach – The best influencer marketing tool
Ninja outreach is yet another vital tool to use in this current year. For a quite long time, this tool has been helping not only the Twitter users but also many SEO, content marketing, link building experts.
NinjaOutReach is used mainly influencer marketing tool, outreach tool and relationship building tool.
Look at the features of Ninja OutReach:
Finding influencers in your industries.
Finding their contact details such as email address, phone numbers.
Finding their social profiles including Twitter accounts.
Outreaching influencers.
What most marketers know about NinjaOutReach as it's an excellent email outreach tool. However, what many don't know is that it can do just more than email outreach.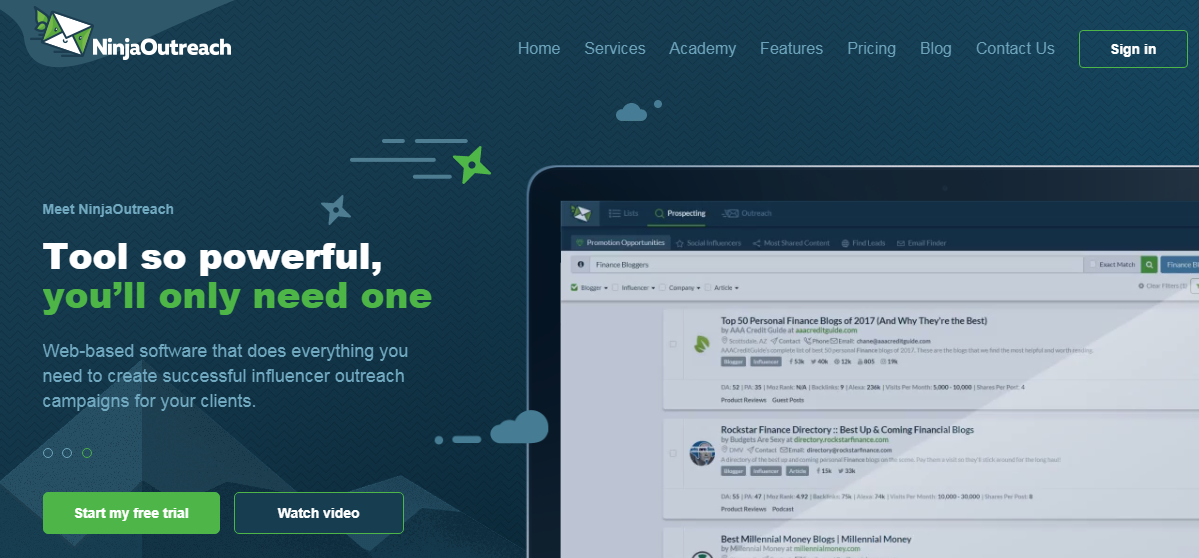 8. ContentStudio – Discover new hashtags
Hashtags are one of the significant elements on Twitter and are trending these days. ContentStudio helps you to discover those new and relevant hashtags on Twitter. This is one of the excellent Twitter hashtag tracking tools and hence perfect to keep track of your Twitter usage.
https://contentstudio.io/ puts forth, "ContentStudio gives you the ability to discover topic-relevant content filtered by social shares, different media types and virality. Select posts individually from your topic feeds or setup an automation campaign with your own rules to publish content automatically to your selected channels."

9. Twitter Analytics – Best tool to boost engagement
To better understand your audience and boost engagement, you need Twitter analytics tools. These tools are crucial because with the help of them, you can identify past successes as well as failures and finally rectify them.
Neil Patel recommends this Twitter Analytics tool for increasing engagement and provide followers more value.
Find below a few of the significant advantages of this Twitter Analytics tool:
Convenient to use and easy to understand.
Ideal for all because it saves you time and increases the efficiency level.
Have various sections to provide a complete overview of your account.
Twitter Analytics thus ultimately helps you enjoy a significant increase in the number of profile visits. Additionally, this tool also identifies the Twitter user who follows your maximum time and you can acknowledge him as the "Top Follower."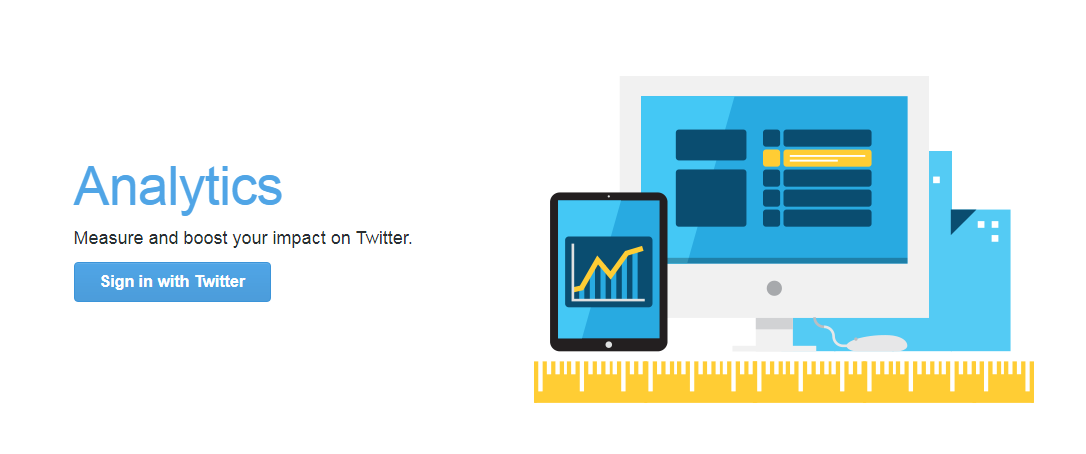 Neil Patel says, "The official Twitter Analytics tool proves that the data associated with your Twitter handle can be simple to understand. You need to provide quality advice and updates. You need to have a solid strategy. You also need to tweet regularly. This tool gives you a snapshot of your activity, while also providing guidance on top followers, top tweets, top mentions and more."
Bottomline
With the tools mentioned above, hopefully, now you can start building a huge list of your Twitter followers and increase the engagement level. These tools are ideal for both big brands and small business. Just to mention, although indicative, this list comprises the must-have ones recommended by almost all social media experts in the industry.
Also Read: Top 12 Social Media Management Tools to Grow Your Business in 2018