Effective social media management is imperative for your professional growth in the industry. Social media plays a pivotal role in any digital marketing campaign. The process includes creating content, scheduling shares, engaging with followers or re-purposing content and many more activities.
However, monitoring all your social media accounts and tracking each of your posts is a pretty tedious task. To prevent you from this overwhelming activity, many industry experts have come up with several automation tools. These tools assist you to get better results over time and finally increase sales.
Each tool has different features and specialties, yet the core value remains the same – to streamline your social media management workflow.
Industry experts mainly categorize Social media monitoring tools into two types, viz:
best social media management tools for small business and
tools more suitable for enterprise businesses.
Here's a list of 12 most recommended social media management tools that would help you with the task of creating content, publishing content to analytics and reporting.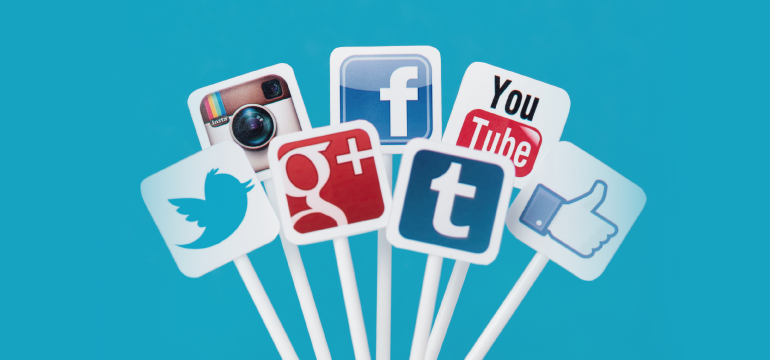 Choose from these social media management tools and excel in your business and requirement. Ultimately with these fantastic monitoring and tracking tools save your time and resources and ensure your posts reach the right target audience at the right time.
1. Edgar or MeetEdgar – The perfect social media scheduling tool
MeetEdgar is one of the best social media tools for marketing. It has a significant impact on your social media traffic. This tool has an exclusive feature of recycling your old treasured content and re-share them automatically.
Edgar specializes in scheduling content, but it takes a unique approach to accomplish this task. It groups all of your contents into particular categories and then adds time slots to each category. Edgar then fills up these slots with your content and publishes them for you.
There's no requirement of refilling this scheduling tool with fresh posts. It has the specialty of taking your great contents and re-sharing them automatically on your major social channels. Hence, Edgar lets you enjoy maximum benefits from every single social media update you make.
Social media experts prefer this social media management tool as it ensures that none of your updates or posts would go unnoticed. Edgar stores all your updates in its online library and continues to share them accordingly.
2. Sprout Social – A robust social media management tool
Sprout Social is considered to be one of the robust and most effective among other Social Media Management tools.  It's similar to functionalities of Hootsuite, one of the best social media marketing tools. Sprout Social works by combining the capacities of several social media tools into one platform. It can very efficiently manage all social media in one place. Therefore, you can achieve all kinds of social media scheduling, monitoring, reporting in one single operation.
Social media experts recommend Sprout Social because it has the features of excellent customer relationship management (CRM). When you have access to the complete profile of your customers, with the help of this tool you can perform better by serving them efficiently and build a healthy relationship.
One of the significant benefits of using- Sprout Social- it provides fascinating and flawless reports. Many social media managers prefer to send these reports to their clients without any editing.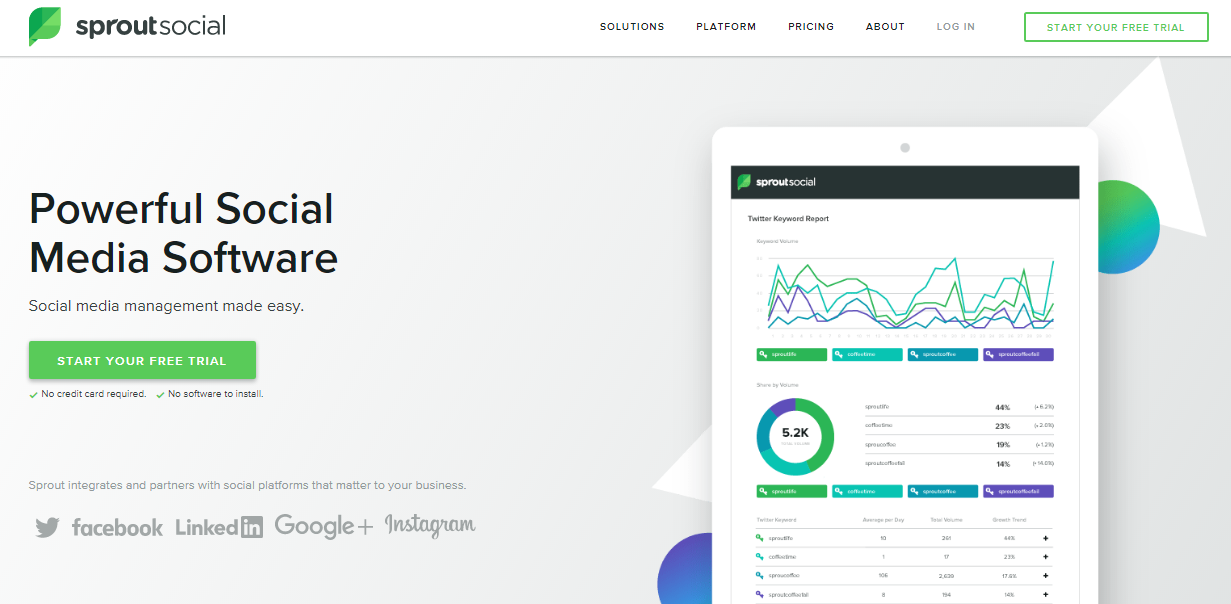 3. Sendible – Social media management tool for agencies
Among many different social media tools for business, Sendible is built explicitly for those agencies that cater to a large number of clients. Besides several standard features, Sendible also allows a user to customize his dashboard based on his branding to attract new clients.
Sendible is unique in many different ways; it integrates  royalty-free image search, Canva graphics editor and YouTube search features. Additionally, it also provides some control for those who want to save time on repetitive tasks.
Adam Connell (Author ar blogging wizard) recommends by saying, " This is my go-to social media management tool. It's got all the features I need and more. The feature I like most is their social media inbox. It's significantly improved my productivity when checking for messages/comments via social. There are a bunch of social tools that offer this feature but I've found their's to be the most robust so far. It's a refreshing change from using tools that offer streams. No more wasted time trying to figure out who I'd replied to and who I hadn't – especially good with high volumes of social messages."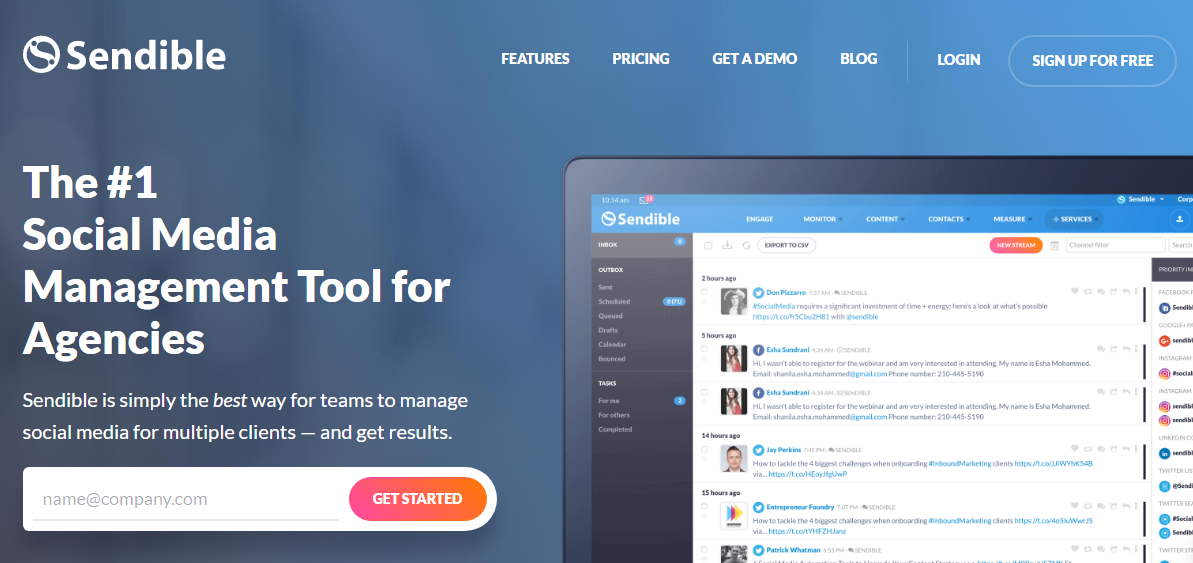 4. Everypost – Best social media management apps
Another vital tool for all other social media campaign tools is Everypost. This tool eases the process of curating content, customizing and finally scheduling social media posts. This social media tool has a strong focus on visual contents and enables one to find out images and videos from Instagram, Flickr, YouTube, and your RSS feed.
Everypost is preferred by all because it allows the user to customize his social media post for each particular social media platform. Moreover, its visual content curation feature lets you find and attach the multimedia content that you want quickly.

5. SocialPilot – Social Media marketing tool
The SocialPilot works in a detailed way; it boosts your online marketing efficiency while saving your time and resources.
Keeping a regular posting schedule on a social media networking site is an endless job. Logging in a social platform and posting contents on social networks is also time-consuming. To prevent you from this monotonous activity, SocialPilot helps to schedule posts in advance and post them according to requirement and relevance.  You can connect to Social channels like Facebook, Twitter, Google plus and LinkedIn conveniently and display your contents accordingly. This is must have for all social media marketing agencies and social media professionals.
6. Social Booster – Comprehensive SMM tool
Social Booster is yet another comprehensive SMM tool that makes the process of social media management convenient. This tool automates the process of posting updates by scheduling them in advance. Using Social booster, you can plan your posts even weeks and months before the day that you want the posts to be published. This way you can keep your social media presence active, also while you are offline.
Social Booster gives you access to a single dashboard. It's perfect for you because you can manage your multiple social media accounts all at once while remaining engaged with your audience.
In addition to that, you can also receive a complete insight into the performance of your social media activities and campaigns. Thus, you can develop a sound understanding of your audience.
Social Booster has unique offers for business personnel; it allows them to create a workflow from the dashboard for their team and eventually increase their entire business productivity. Hence, it a business expands its reach through improved usage of social media.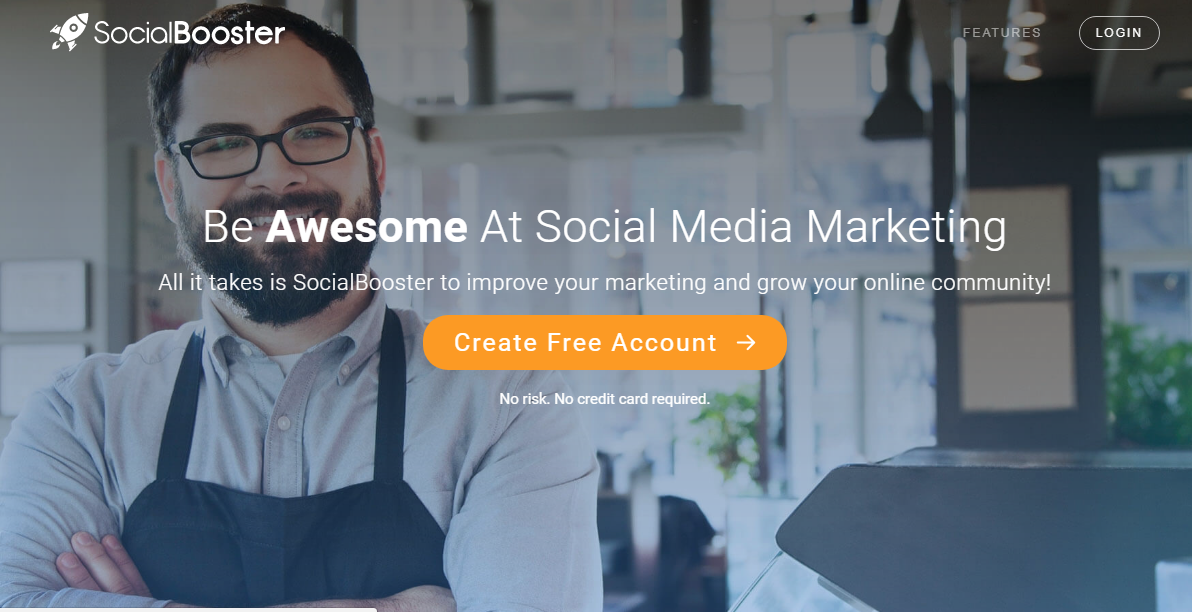 7. IFTTT – Impressive among social networking tools
IFTTT is impressive among all other social media monitoring tools. It aids you in establishing connections for a variety of social media sites, services, and channels. This tool has a mind-boggling capacity of creating networks on 306 channels. Social media marketers find this tool useful because it has the capability of improving the user's productivity based on an action-reaction mechanism.
A fascinating example is put forth by the blog Best Social Media Management Tools 2018, "You can get a Facebook post or a tweet updated automatically once you submit a new blog post. So, you can choose to connect your preferred network with the action of your choice via IFTTT. This trigger-action setup for your profiles is termed "recipe" about IFTTT."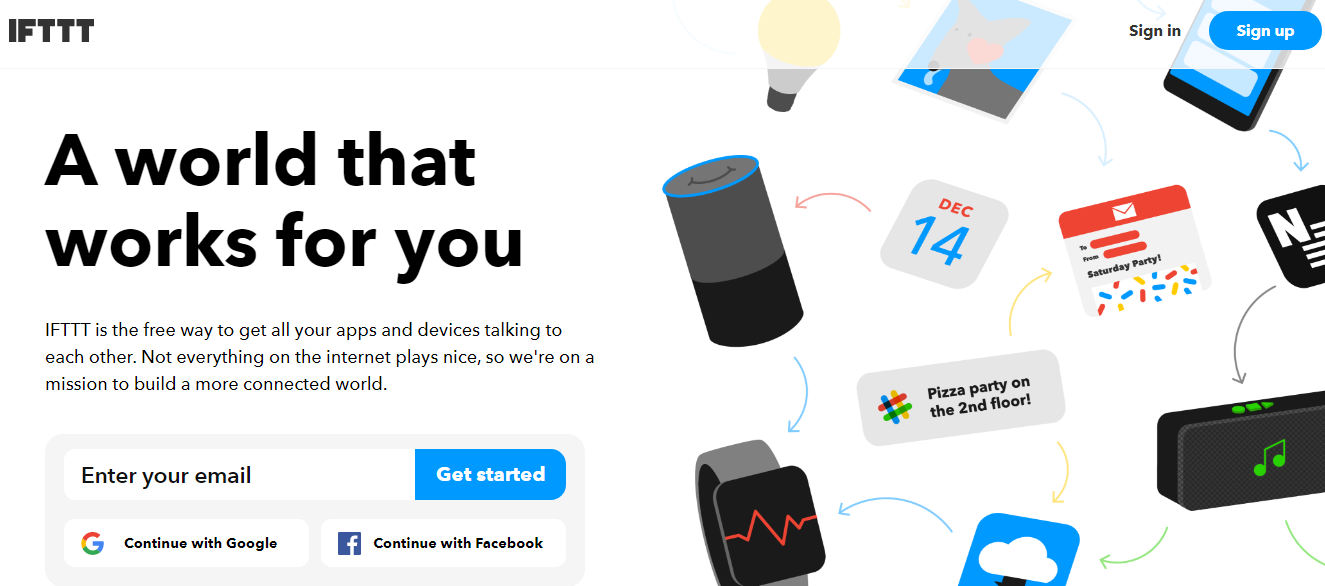 8. PostPlanner – Increase engagement with your followers
PostPlanner is beneficial because it not only allows you to schedule posts but also shows ways of receiving increased engagement from your followers on the social media platforms.  Using this tool is the best way to manage social media for business because its main aim is to help you find the right content and getting it published through a queue or scheduling and as a result increase the traffic to your profiles. It has this unique "viral content" functionality that shows you the most viral images, videos, articles, news and more from your industry. You can then use such viral content to enhance the engagement of your sites.
According to Andy Colwell (visual journalist and photographer), "PostPlanner is a great content curation tool. PostPlanner helps you find proven content that is already popular and has proven to go viral. A very useful tool for finding great content."

9. Google Analytics – Social media analytics tools
Google Analytics is the one of the must-have tools for all social media analysists. This tool works in a very detailed way, the data we gather from analytics focuses our efforts on the social media platforms that are driving traffic and conversions. This analytics tool helps you to identify how many readers converted to subscribers or if you have received any negative ROI from the Facebook ad spend or not.
Adel de Meyer (Social Media, Digital and Tech – Author/Mentor) says, "To be successful and to track your success or failures you need a robust analytics tool to give you all the data necessary to adjust your strategies hence why Google Analytics will always be on my must-use list for social media management."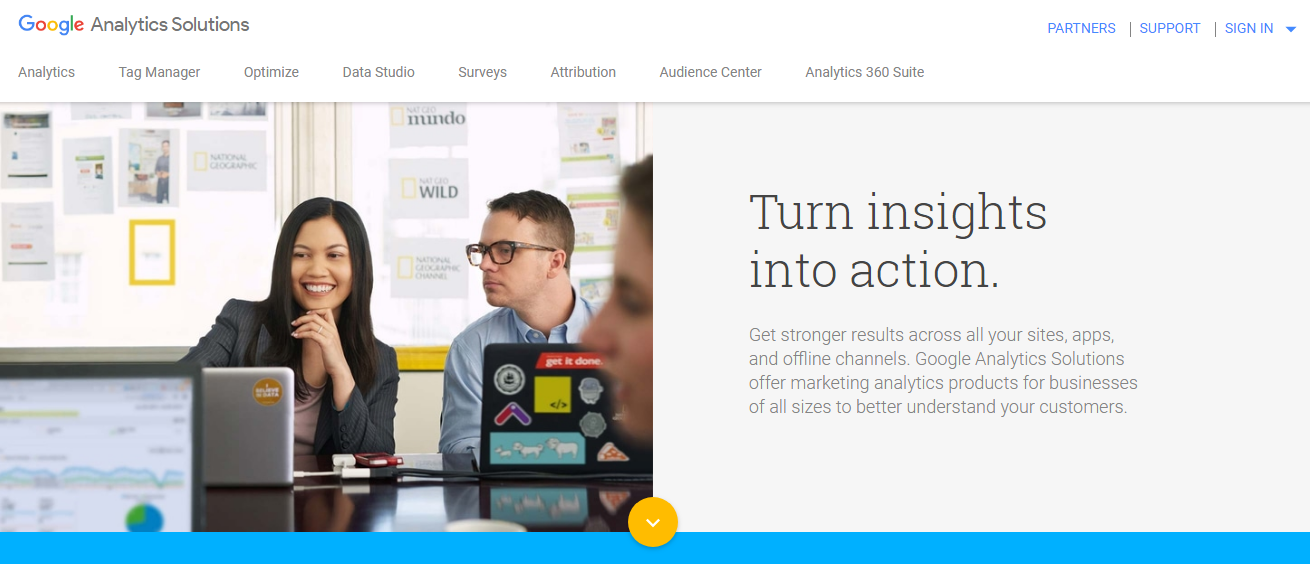 10. SocialFlow – Perfect Solution for publishers
SocialFlow's algorithms help you analyze user behavior and then optimize each post based on real-time data. It is the perfect way to predict the best times for publishing content and to capture peak attention from target audiences. They release posts according to the optimized timing and relevance. This tool offers a full suite of services that aim to expand audience engagement and increase revenue per customer.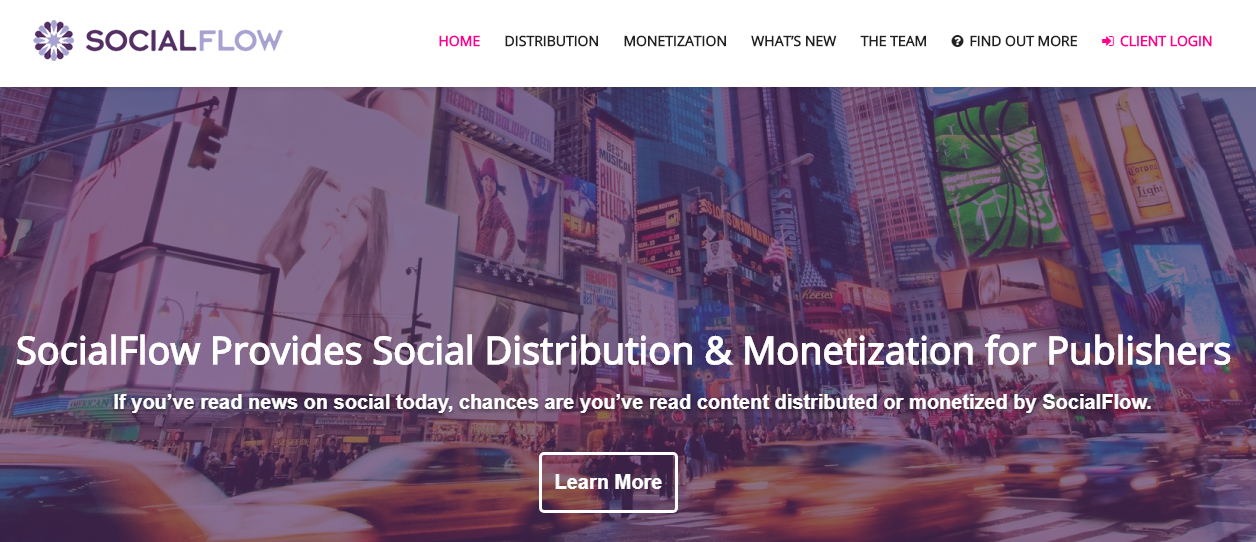 11. CoSchedule – The best marketing calendar
A marketing calendar is one of the integral elements of any business. Without a marketing calendar, you cannot keep track of your content and eventually will lose the game in this highly competitive world. CoSchedule is a marketing calendar designed for convenient use.  This tool includes social sharing functionality and hence it's preferred  as a  user-friendly tool. Using Coschedule is the best way to manage social media for business.
CoSchedule integrates social media and blog publishing calendar.  The plugin consolidates with many social platforms like -Twitter, Facebook, Google+ and LinkedIn.
The primary activity of Coschedule is to schedule your blog posts. The calendar feature allows  the user to keep track of the most shared and engaging content.
CoSchedule provides a comprehensive content report documenting social shares and engagement. Its fantastic feature is well-liked by all content creators because using this feature, a content marketer can identify pieces that resonate most with readers.
CoSchedule is different from many other tools because it primarily focuses on content versus solely social performance.
According to Neil Patel, "Integrate CoSchedule with Buffer. The plugin will then automatically post on social media at optimal times. You can read the tutorial on using the buffer with CoSchedule to get started."

12. Feedly – Accelerate your digital marketing activities
Neil Patel points out Feedly as " a great replacement for Google Reader. It helps you aggregate the top content in your niche from industry blogs and other publications."
Social media experts tag Feedly as a content discovery tool. Like BuzzSumo, it has the feature of accumulating all the top contents from industry blogs and other publications to help you. However, Feedly's functionalities are a little different from Buzzsumo- Feedly is just a content aggregator tool, it helps you to gather a huge number of contents from different areas. On the other hand, Buzzsumo collects reading materials and at the same time provides an in-depth metrics also.
But the benefit of using Feedly is that it will give you ample reading material and store them correctly into run out of things to post about on your social profiles.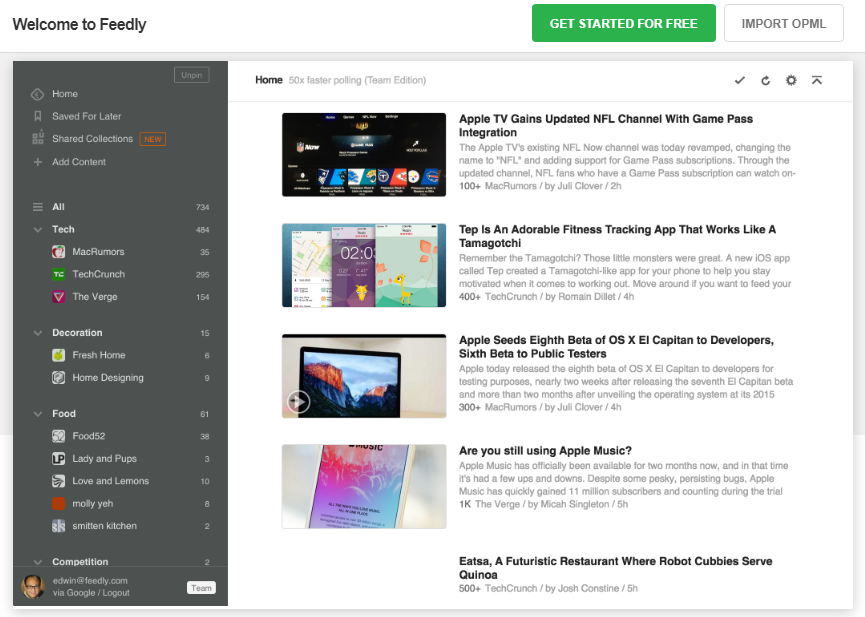 Key Take Away
The wired medium has social media tools ideal for both small businesses as well as big enterprises. Using these tools will help any entrepreneur to reach the next level. Social media has significance for every kind of business organization because this platform gives the marketer enough opportunities to convert a follower into a potential subscriber or customer before they leave.  With these advanced and valuable social media management tools, start paving your way and achieve your desired social media goal.
Also Read: Top 9 Twitter Tools Powering Social Media Experts in 2018