Instagram marketing is trending now.
Do you want to know how to promote your business on Instagram enjoying the new marketing strategies?
Instagram is one of the fastest growing marketing platforms in 2018. This visual platform is the best mean to grab the attention of more and more patrons worldwide. Several researchers and surveyors show that in this current year this social media channel will become the most favorite marketing platform of all times.
Due to continuous business-oriented upgrades, now Instagram will enable every marketer to grow their enterprise further without spending more time on sending posts.
Instagram Marketing – Why Businesses Should Get Into It
It's a known fact that since its onset, Instagram has emerged as one of the most popular social networks helping brands introducing their products. It has been an ideal platform for growing followers and driving engagement for entrepreneurs. Needless to say, Instagram has been providing every marketer the appropriate opportunity to promote his brand in an authentic and friendly manner.
According to the latest Instagram stats, in 2017 800 million monthly active users are reported. In this current year, experts believe that the user count can reach to a billion.
Hence, it's proven that Instagram is the most used social media platform compared to Facebook Messenger, Twitter or WhatsApp. Therefore, digital marketers must be proficient in using Instagram marketing to connect with a larger client base. Today's customers are mostly Millennials and when a company uses the Instagram marketing service, it can satisfy its captious clients through amazing visual brand story representation.
Mentioned below are some of the fantastic Instagram marketing benefits:
Using the Instagram marketing app, an enterprise can showcase original product/service content successfully to its existing and potential clients.
Businesses find that this marketing feature of Instagram would help them to align their marketing campaign with the audience's interests and expectations.
As Instagram is a visual platform, enterprises can enjoy the advantage of the unique visual positioning opportunities on Instagram.
This marketing service encourages increased engagement from your fans and followers.
Using the social media marketing Instagram, organizations get a scope to present effectual call to action and prosper from this marketing campaign.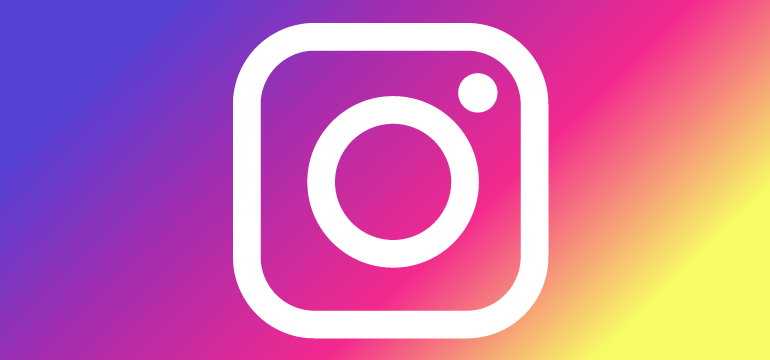 Take a look at the 7 Instagram Marketing Trends You Need to Know in 2018
1. Shopping Features Make Purchasing Through Mobile Easy
Instagram is a preferred social media platform for all brands and businesses alike. Instagram marketing 2018 introduces Instagram shopping and this recent trend will provide scope to e-commerce marketers to skyrocket their business. In the current year, brands can now use these new business features and attract more consumers then years before.
Instagram shopping is an organic selling feature that makes mobile purchasing easier. This feature will provide Instagrammers to explore and discover more and more products.
Instagram wants to create a memorable shopping experience for its users. This platform envisages building a lasting relationship between brands and consumers. Through Instagram marketing, customers will get more immersive experience. They would now get more time and space to browse and evaluate their chosen products/services making mobile shopping more enjoyable.
Through this Instagram feature, businesses can also create and tag a post with products directly from their iOS mobiles. The moment businesses have a product catalog connected to their account, labeling a product becomes easy as tagging a person in a post. Through this trend, brands can add links to the photos to send their customers to the specific landing pages.
This feature thus would improve the product discovery process on the app by making information available in one place. Consumers can identify shoppable posts by a white shopping bag icon placed at the top right-hand corner of posts. Consumers can buy the exact products as they are displayed in the images.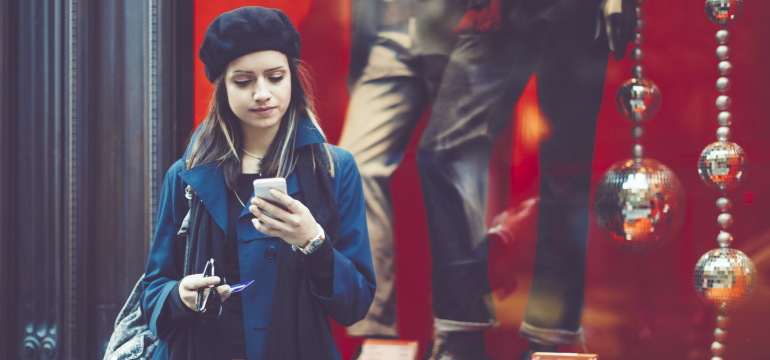 2. Marketers Can Target Micro Influencers For Promoting Their Brand
Instagram has undergone several changes and now it has become more difficult for users to get followers.
So, in this highly competitive phase what can you do?
How do you reach a more extensive network of consumers?
Don't worry, here's a new Instagram marketing strategy. According to this Instagram marketing campaign, businesspersons can engage micro influencers for promoting their products and services.
Influencer marketing has been growing in these days. Businesses are allocating more and more funds to this fruitful advertising technique. The micro influencer trend started last year and it brought overwhelming results. Therefore, this trend will continue this year too.
As we know that user engagement is vital for effective branding and spreading a brand's message amidst different audience increases engagement. Hence, in 2018, influencer marketing on Instagram will become the most critical element and will present new opportunities for brands.
Micro influencers are associated with reports of a higher meeting. Hence, targeting micro influencers would highly benefit digital entrepreneurs because a brand would reach more and more consumers through people both the parties trust.
However, while managing micro influencers, brands must be conscious of not partnering with fake followers. It's no secret that Instagram has been facing the challenge of people purchasing fake followers. It's reported many times that brands take into promotion through counterfeit influencers.
So, partner with trusted and real micro influencers, who have a history of holding on their followers for long. Look for micro influencers who have higher engagement rates and increased return on investment (ROI). Brands partnering with any influencer should, therefore, authenticate their partners.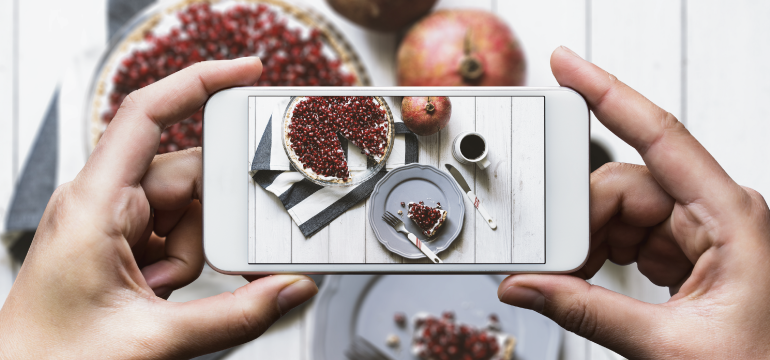 3. Stories Shared On Instagram Drive Real-Time Engagement
Business owners would benefit from using Instagram stories also. This Instagram feature has a bigger audience. Instagram has launched the stories section in the middle of 2017 and this current year; it would have high engagement rates too.
Why should you use Instagram Stories to attract a large user base?
On Instagram stories Kissmetrics says,
"Whether you use photos or videos, Instagram Stories are a great way to give your audience a 'behind-the-scenes' glimpse of your business."
Here are some of the reasons:
From the above Instagram marketing statistics it's clear that sharing photos or videos as stories would drive real-time engagement. You can create an impressive narrative and share stories through Instagram marketing tools, the best social media management tools.
If you lack ideas in creating visually compelling contents you can hire a professional team to present you with some stellar social media graphics.
Taylor Loren, Instagram Marketer also encourages brands to use says in her blog – Top 7 Instagram Marketing Trends for 2018
"Instagram Stories saved the day by giving brands a new, useful, and free way to connect with their followers. And they even let brands add clickable links to their content too."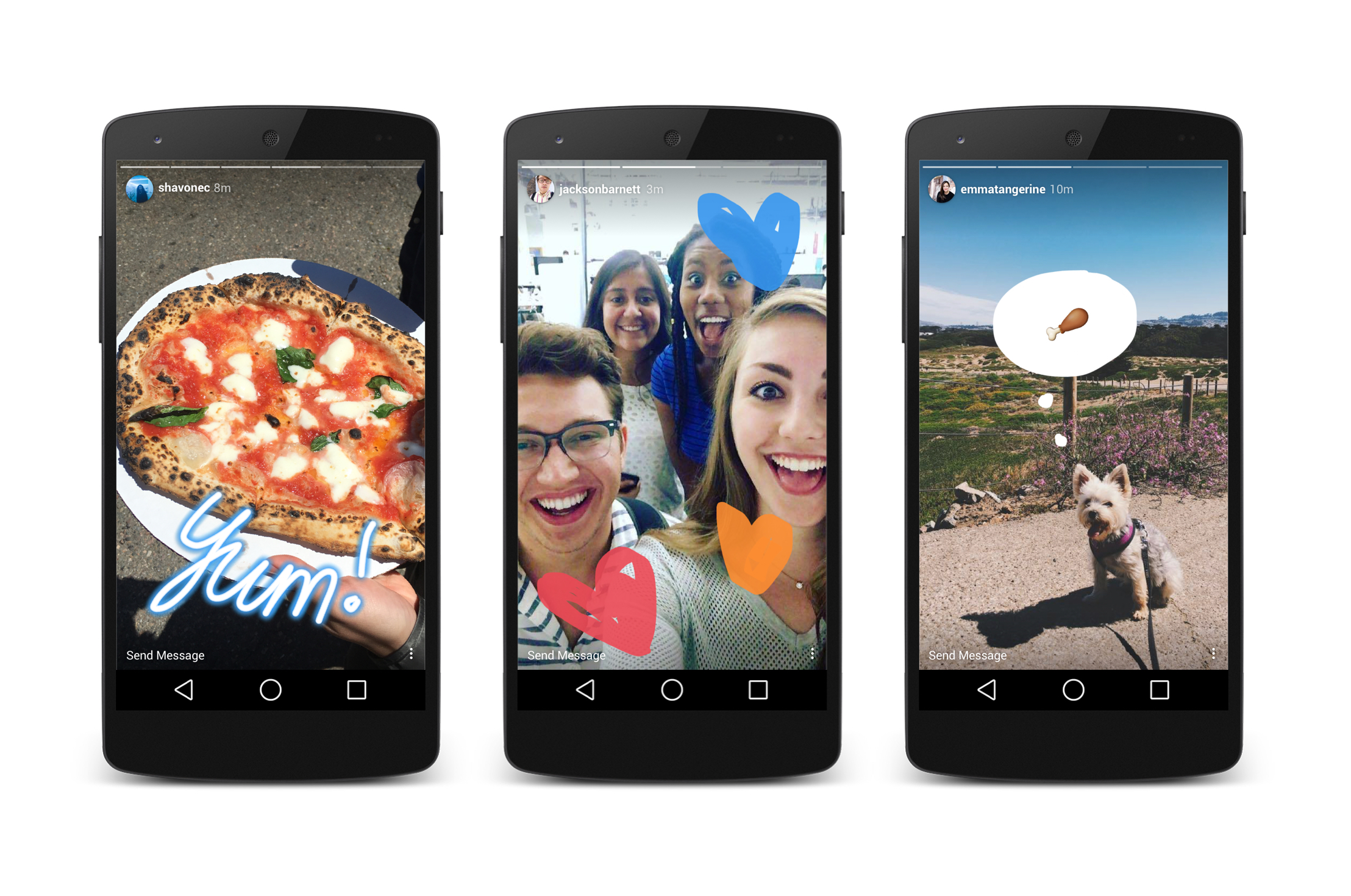 Image Source: Introducing Instagram Stories
4. Use Augmented Reality Face Filters To Showcase Brand Personality
Augment reality is one of the happening thing today in the cyber world. Several brands have been attracting potential customers through AR. Now, Instagram has provided AR face filter option for its users.
How does this feature help businesses?
According to the latest trend, businesses can now use branded face filters to create an impact on their existing and potential clients. However, although trending, Kissmetrics blog states that this feature might be accessible only by 2019.
But the good news is that this year Instagram would offer its business users essential elements like – color palette, content, font and composition for making a brand's post most interesting.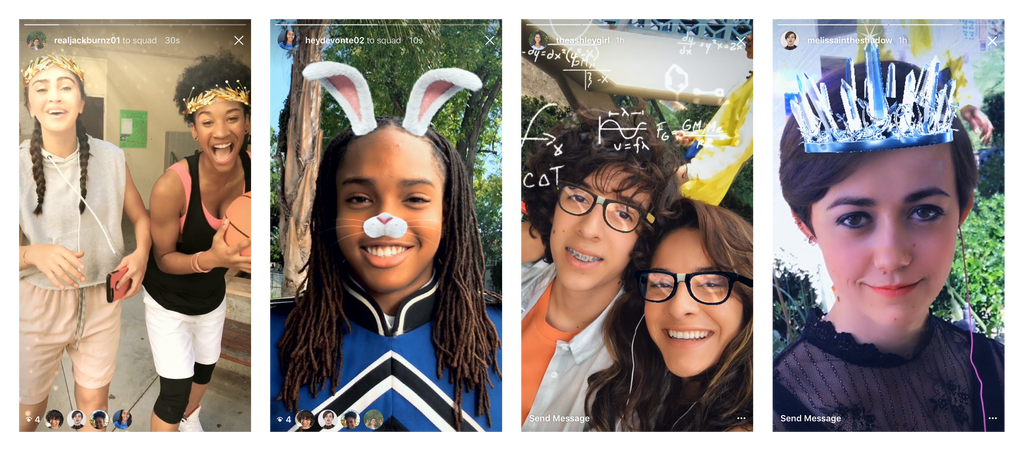 Source: Introducing Face Filters and More on Instagram
5. Live Streaming On Instagram Engages More Followers Organically
Instagram Live is another amazing way to connect with your audience. Consumers relate to those brands more quickly who communicate through live streaming. Brands can use this fruitful and productive method to answer questions of their customers and solve issues.
How will you notify your customers about you using this fantastic Instagram feature?
Turn on your notifications and let your followers know that you've gone live.
When you plan for live streaming consider using any of the following content types for a successful engagement:
Live streaming on – Demonstration of your product/service
Event Updates
Showcase exclusive content of your brand
Organize contests
Sometimes you can ask your friends to add you to their live streaming scenario also which undoubtedly provide scope for more promotion.
To attract more and more viewers for your live streaming video – promote your Live broadcast in advance.
Find a peak time to live stream your broadcast through Instagram insights. A user can also save live streams to the camera roll.
It's beneficial because the more viewers and more traffic you receive you will continue to rank higher amongst your competitors.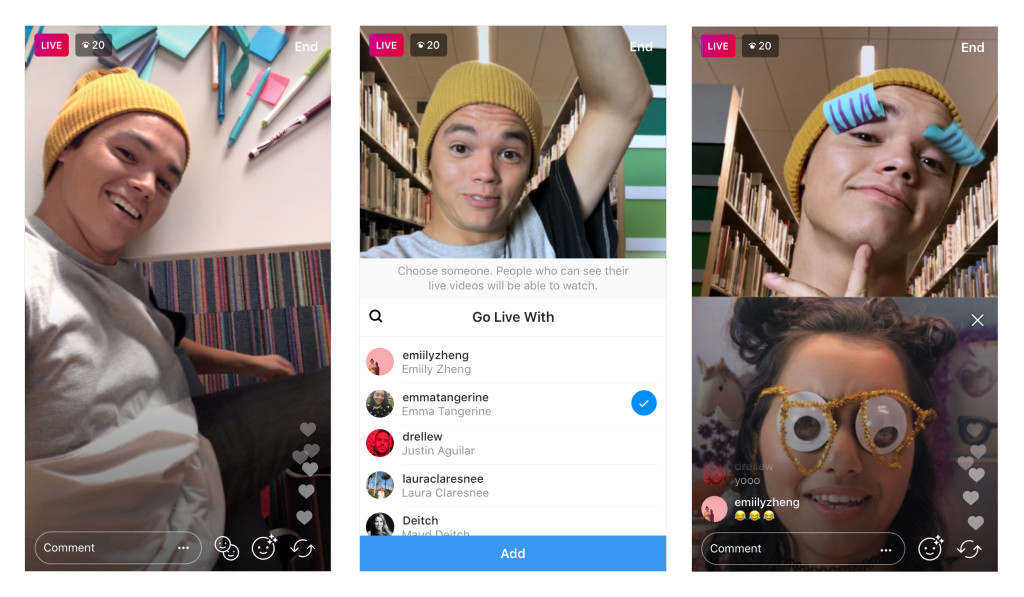 Image Source: Go Live On Instagram
6. Instagram Analytics Provides Brands More Business Option
Instagram is making changes to its algorithms and the recent algorithm update is announced in 2018 –  users will have more control over their feed and these changes would also ensure timely delivery of posts.
Instagram has 800 million users and hence there is a lot of competition. Increased competition means more saturation and decreased organic reach. Now when a brand wants to enjoy maximum engagement, they need to use Instagram Analytics, an Instagram marketing software in 2018. Instagram business accounts will have the opportunity of promoting posts. To have access to this feature, switch your account to a business profile. Select the post you want to promote and then continue with the process.
7. Instagram Advertising Is Trending In 2018
Instagram Advertising is the next best thing on Instagram that's trending in 2018.  A brand can use the following Instagram ad formats for successful promotion of their products and services.
Photo ads:  Promote your story through creative instagram marketing. You can use photos of different formats -square or landscape.
Video ads:  Create some visually attractive and quality video ads. Now, Instagram is more user friendly, a user can share videos up to 60 seconds long. If any brand wants to improvise on the sight, sound and motion of their created project or want expert handling of the broadcast they can visit professional video producing agency – Animated Video.com.
Carousel ads: With this interesting feature allow your consumers to swipe and view additional photos or videos in one single ad.
Stories ads: Don't forget about ads on Instagram Stories. This is yet another important option to connect with the large user-base.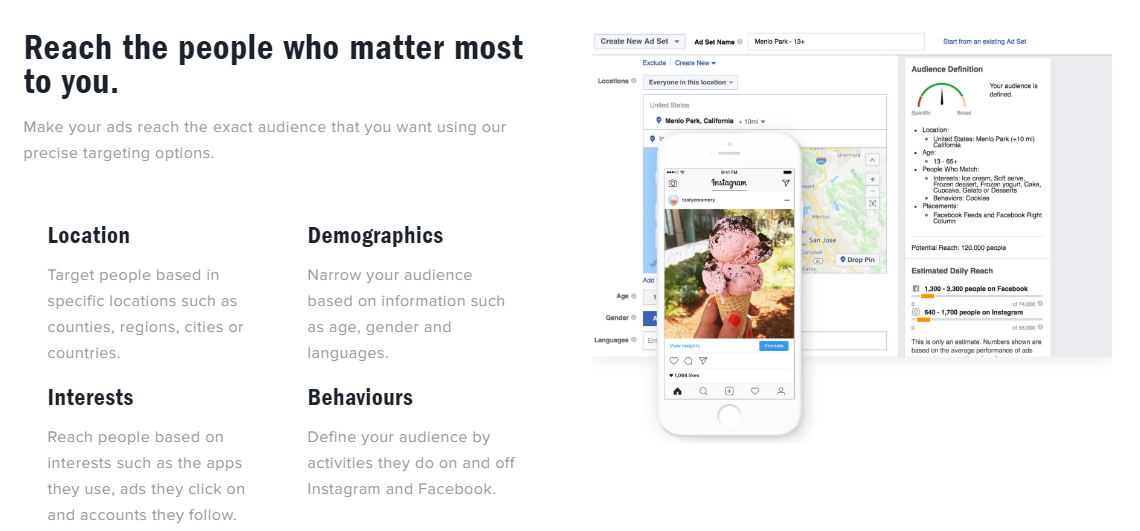 Image Source: Build your business on Instagram
Want to have stunning results on Instagram Marketing?
Take a look at the useful Instagram marketing tips provided by digital marketing experts.
Laura Lawson Visconti, travel journalist and  social influencer puts forth her Instagram marketing advice to present day marketers- ,
"Instagram is a digital branding catalogue, and is more intuitive and easier to access than most other web platforms; I use it as both a portfolio and photo journal. My Instagram gets much more web traffic than my actual website. Almost all my gigs involve posting an ad on my Instagram account in the form of a unique photo that's blended seamlessly into my other content."
Zahara Jade, Content and Social Media Director at Hire Influence, "Instagram is the best platform to present my brand's image and reach my target audience and new potential customers. Over time, this audience can be leveraged for website clicks, sales, and more."
Tracy Matthews, Chief Visionary Officer at Flourish and Thrive is of the view, "I use hashtags that are trending in my niche and the hashtags that my ideal clients are following."
To sum it up
The year 2018 will be an evolutionary year for Instagram. With so many recent trends, this social channel would be more sophisticated. All these latest progressions would drive more engagement and give scope to brands to increase followers. As an online marketer, you can use any of the above trends and come closer to your audience.
At A1 Future Technologies we provide you professional guidance on how to create social media contents to boost customer engagement. We are trained at translating your dreams into visual images-count on us for a creative branding process.