The growth of global digital marketing precinct would have remained stagnant had there not been SEO Tools to create the most optimised contents. Hello readers, A1 Future Technologies today writes about the importance of SEO software alongside naming 12 most powerful of them for not only in 2018, but also for eternity.
What are SEO tools?
Researching the target keywords and using them efficiently for internet marketing strategy is a challenging task for all webmasters. SEO optimization tools help you to encompass both the technical and inventive elements required to drive traffic, improve your rankings and increase awareness in search engines.
Mentioned below are some of the best free SEO tools. Utilizing these SEO software you would know how to improve SEO ranking on Google and beat your competitors. Some of the tools are available for free while others are available in paid subscriptions.
1. Google PageSpeed Insights: An easy to use tool for measuring page speed
Website Page speed plays an essential role in the success of any online business. Page speed is either the "page load time" – the time that it takes to display the complete content on a specific page or "time to the first byte"- how long it takes for a browser to receive the first byte of information from the web server.
According to Google, site speed and as a result, page speed is one of the significant signals used by Google's algorithm to rank pages. The process is a bit detailed. Google measures the time explicitly to the first byte when it deals with page speed. Hence, a slow page speed means search engines crawl fewer pages using their allocated crawl budget which further negatively might affect your site. With the recent Google speed update status from July 2018 Page speed will be more critical because it will be the ranking factor in mobile search too.
So, it becomes an indispensable task for every webmaster to check the web page speed time and take necessary measures to improve when required. To help online business personnel in this regard, Google has launched Google PageSpeed Insights to create a greater impact on the overall user experience. This is an excellent tool that can determine which of your pages are fast or too slow.
PageSpeed Insights identify speed score by incorporating data from CrUX (Chrome User Experience Report) and finally sends reports on two important speed metrics:
Contentful Paint (FCP)
DOMContentLoaded (DCL)
SEO professionals have been working with this tool since long because it has the exclusive features of providing the user with all relevant information they need to improve the website load time.
The process of using this user-friendly free SEO checker tool is quite convenient. The user has just to enter the URL of his site and the tool will test the loading time and performance level for multiple devices. In addition to this, the tool also monitors opportunities to improve your proficiency.

2. Google Analytics: Offers the best analytics and marketing measurement
Google Analytics is an analytic web service and also a popular keyword tool offered by Google. This service provides data and analytical tools to track and report website traffic. This is a freemium service and hence is widely used by almost all online marketers today for search engine optimization (SEO) and marketing purposes. Google Analytics has unique features for providing complete web stats and searches insights to the users. It's a vital tool and the best SEO tools for small business.
This powerful featured analytic tool is a program that integrates with other Google programs too like AdSense and AdWords. This integration process is designed to provide more valuable services to the users. Google AdWords is preferred for having internal split testing and conversion tracking software. Additionally it also offers data integration service with Google AdSense which is a unique service.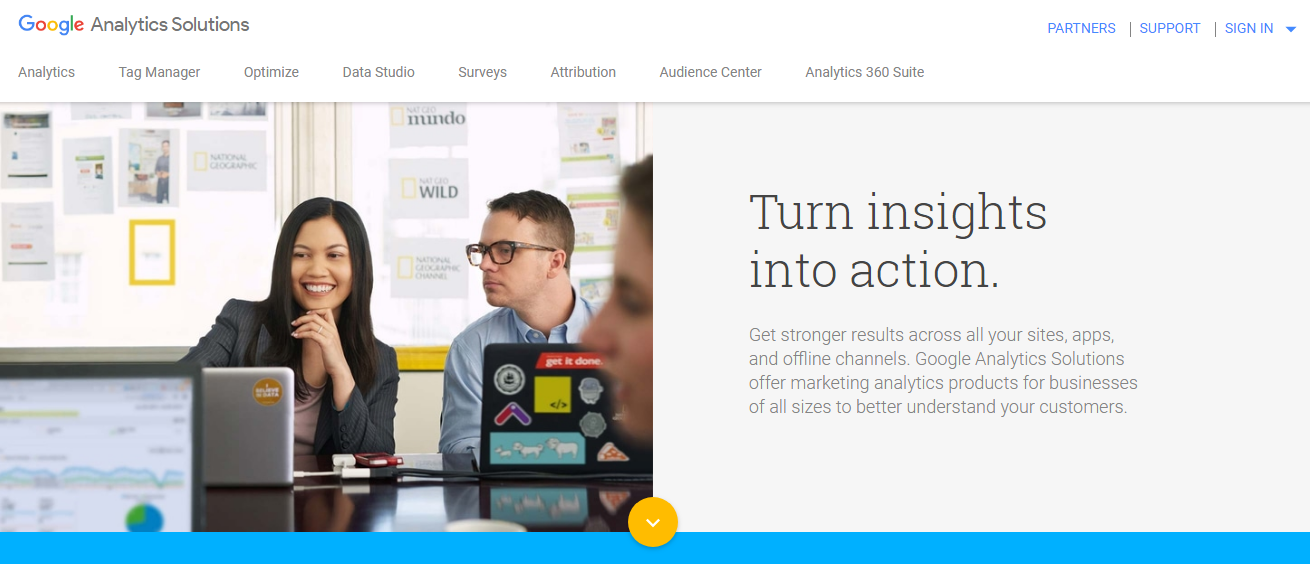 3. HARO or Help a Reporter Out: Enrich your SEO with this powerful tool
HARO or Help a Reporter Out is not a traditional SEO keyword tool but using it would bring a breakthrough in SEO practice. This tool provides the database of sources ideal for journalists. Using it, a reporter gets an idea for the upcoming stories and opportunities for sources to secure valuable media coverage.
HARO proves to be a useful tool to enrich your SEO by building high quality backlinks necessary for your website. Backlinks are valuable for every website and are crucial to the success of any SEO campaign. But getting excellent quality backlinks to a blog or a website sometimes becomes challenging. So, HARO can help you to build a strategy so that you receive high authority links which mean guaranteed SEO success.
HARO is a free among the powerful SEO tools in the industry. It's simple to use and you just need to sign up and provide some necessary information on your company. The system enables three emails per day with media opportunities.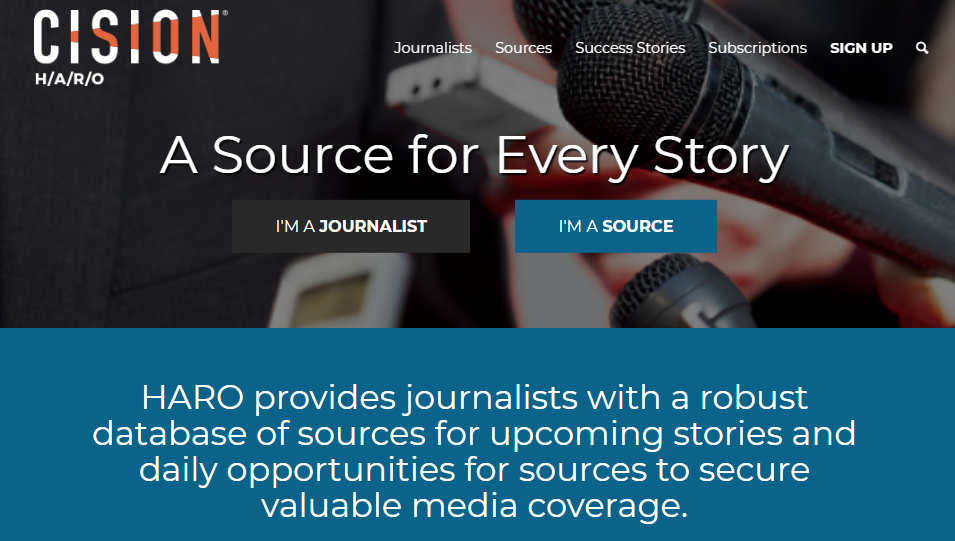 4. Ahrefs: Best tool-set for research and analysis
Ahrefs is one of the most recommended tools-set for backlinks and SEO analysis. At present among all other SEO tools online, Ahrefs has the most extensive base for providing Live links, huge indexing and the best speed of index updates. Industry experts prefer these tools because these are the best tools to aid you in growing your search traffic. Besides, they enable scope so that you can conduct research on your competitors and finally monitor your niche. This way you can discover newer ways and outrank your competitors.
Ahrefs continuously keep adding new tools and features.
Below is a list of tools provided for your SEO campaign success:
Site Explorer tool: analyze your site's backlinks profile and also your competitors' sites. Explore most profitable keywords for organic and paid search
Content Explorer: with this tool find out about the most shared content for any given topic on the social media channels
Ahrefs Keywords Explorer: helps you identify relevant keyword ideas and traffic estimations
Rank Tracker tool: lets you track desktop and mobile rankings for any location and get reports on daily/weekly/monthly basis.
Site Audit tool: this SEO monitoring tool allows you to analyze your website for common SEO issues and further monitor your SEO health.
Recently, Ahrefs has become the essential SEO checker tool because it's an all-comprehensive tool. This freemium tool offers you fresh ideas to tackle link-building and content analysis and much more.

5. Open Site Explorer: All inclusive link analysis tool
Most new sites and links require indexing and this indexing is done by the spiders available in Mozscape and Open Site Explorer.
Open Site Explorer is the best source to identify leading pages, research backlinks, analyze anchor text etc. Use the free version of Open Site Explorer to view link building opportunities. With this tool, you can have a quick look at the complete range of link analysis and find out the most vital links essential for ranking.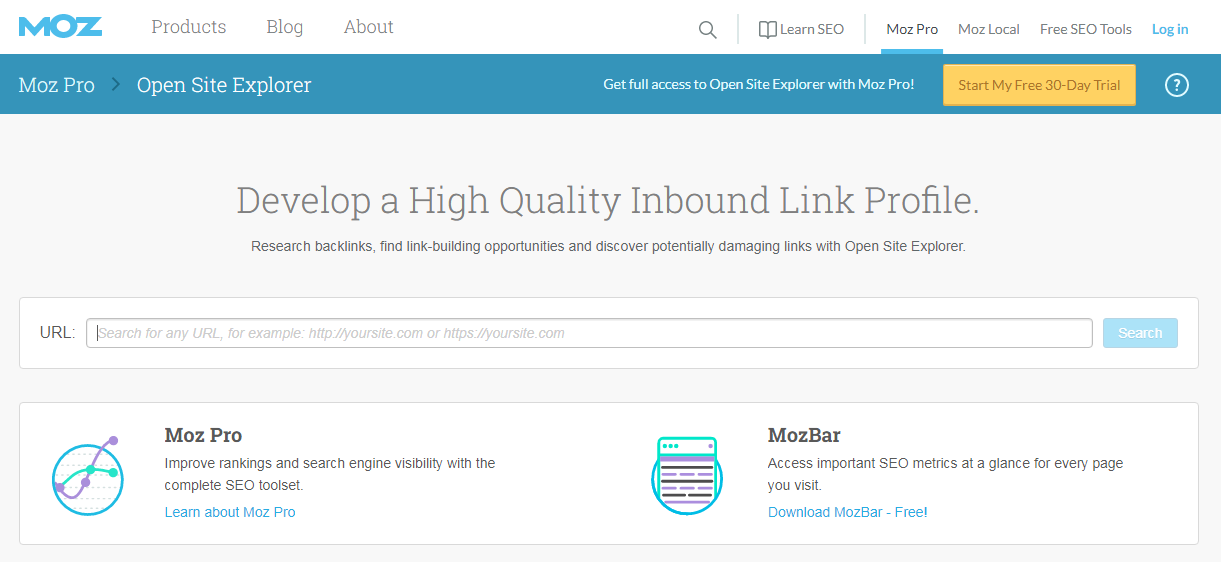 6. Majestic: Perfect SEO backlink checker
Majestic SEO is another vital tool for link analysis. After Ahrefs it's the second most used tool in the link building industry. It is preferred by industry experts due to its capability to judge link-values. Additionally, it's the best indicator to identify domain/URL strength. The tool is paired together with SEMrush and Ahrefs.
Majestic SEO is ideal for SEO professionals, media analysts, entrepreneurs and developers.
Goyvaerts Timothy, (SEO consultant & human marketeer at Onlyhumans.com) states, "Majestic SEO When it comes to backlink analysis, my preferred tool is Majestic SEO for 3 reasons: their pricing, their metrics and their index."

7. Seobility : SEO software for better optimization
Seobility is best among the SEO optimization tools. This online SEO tool helps you to build better websites quickly and easily. This tool is the most sustainable and straightforward way to achieve better rankings and more visitors to your website and your business.
Seobility is designed to check your entire website and this tool does it by crawling all linked pages. When it finds pages with errors or problems, it shows ways for the on-page optimization. The tool collects duplicate content and displays them on each check section. The tool has a specialty for sustainable and continuous review of your website.
The four major features of this tool are as follows:
SEO Check – to test your website and give you tips for better search engine optimization.
Keyword Check – to show how well your page is optimized for your target keyword.
SEO Compare – to compares two pages for a keyword term.
Ranking Check – to check your page's rankings for any keyword.
Seobility is a free plan only used for one domain. Its premium plans start at $40 per month with a 30-day free trial.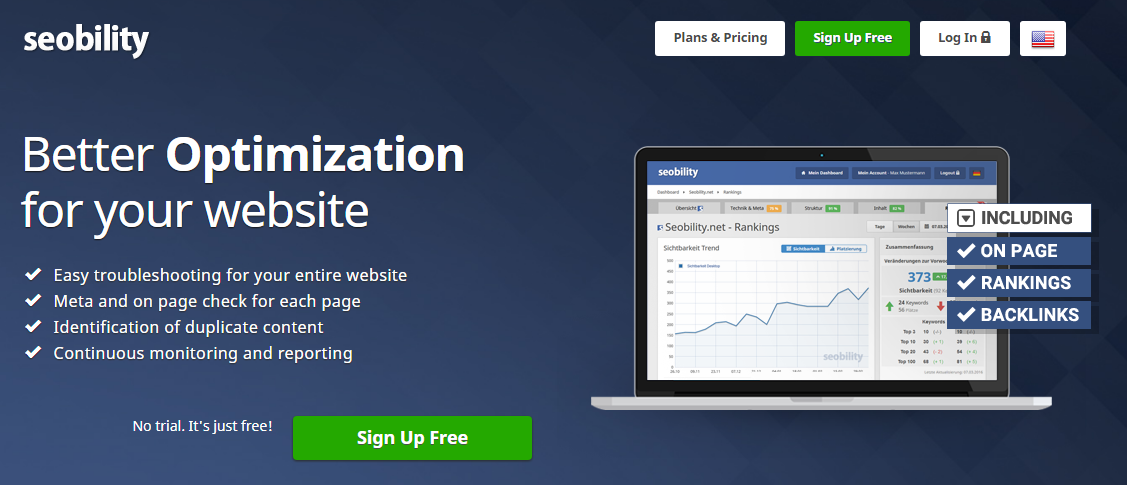 8. SEMRush: Keyword and competitor analysis becomes easy
SEMRush, a freemium tool is used for keyword research as well as competitor research. Among several other Google SEO tools, SEMRush is unique in its ways- it has 20 different approaches to research competition. Using this tool, a user can find out the competitors best backlinks, keywords, contents and eventually plan one's SEO strategy. SEMrush is also ideal for paid traffic and PPC.
9. Google Keyword Planner: Must-use SEO tool for all beginners
Keyword research is the basis for the success of every online business. Google keyword planner is a must-use SEO tool for all beginners. It provides comprehensive and detailed search results that can be immediately put into action. This free tool lets you find the popular and vital terms used in your niche industry.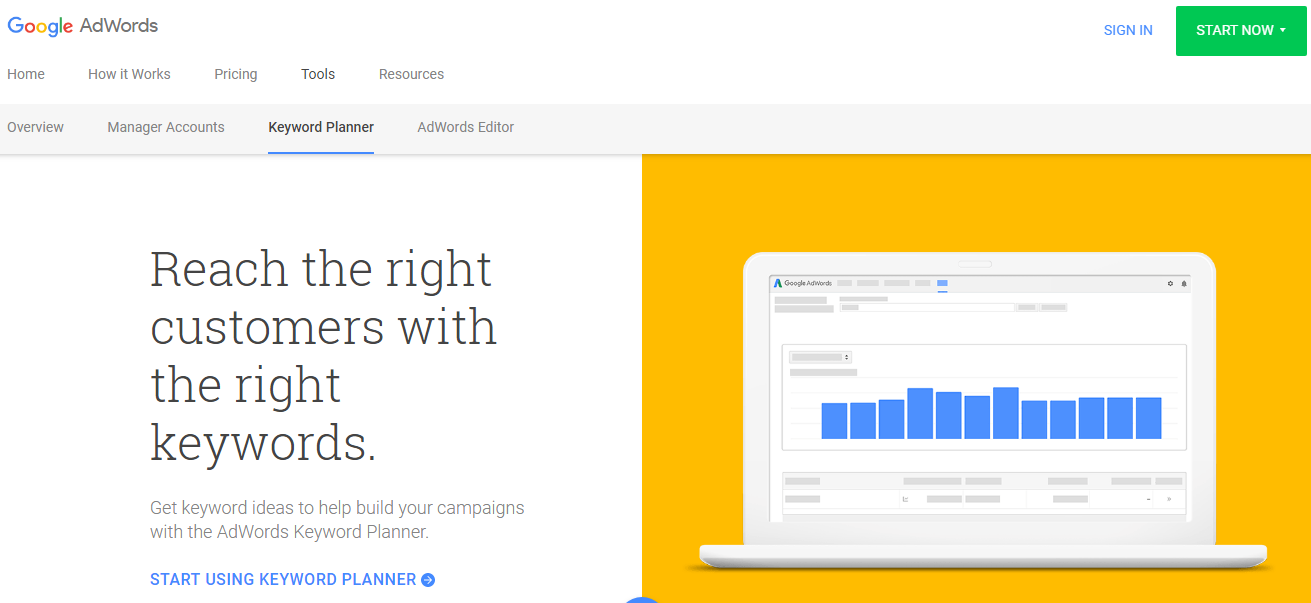 10. Google Search Console: Improve your SEO ranking
Google search console is the SEO website ranking tool. It helps the webmasters to monitor and maintain the site's presence in the Google search result. It is a freemium tool and using this a webmaster can understand how to improve SEO ranking on Google.
Pedro Dias – Managing Partner and Managing Director at apis3 recommends Google Search Console as a perfect SEO tool. With this tool, one can get the required data needed to create and maintain Google-friendly websites and mobile apps.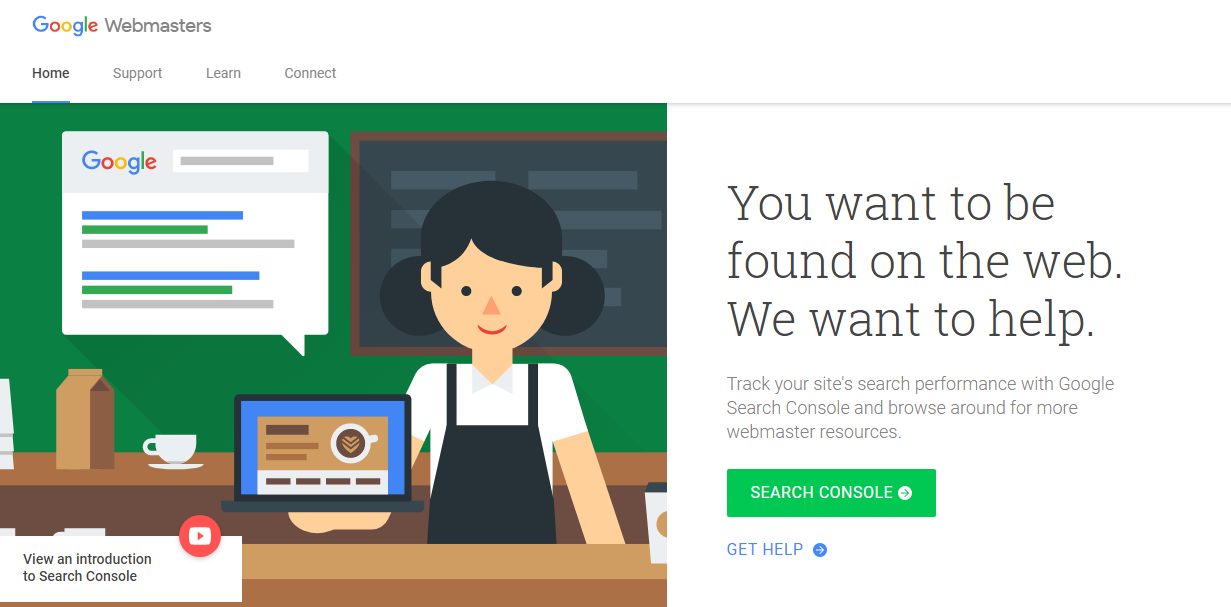 11. Buzzsumo: Effective tool to increase traffic
No other tool is as robust and useful as Buzzsumo. This is the ultimate and one of the most effective SEO tools to increase traffic. Utilizing these users can develop and amplify the online content that finally builds audiences and drives revenue growth. Besides providing SEO, this tool also offers scope for audience development for major news and magazine publishers and content strategy.
Matthew Barby, Digital Marketing Expert Hubspot puts forth, "BuzzSumo has to be the most important tool that I use for my content marketing and SEO campaigns. The ability to quickly identify what content is working well in an industry and who the major influencers are. For me, no tool comes close to providing the kind of insight that BuzzSumo gives."
12. Screaming Frog: Powerful SEO Spider
Screaming Frog is among the best SEO tools 2018. This SEO spider is one of those flexible and powerful tools that crawls exceptionally quickly allowing the user to analyze the results in real-time. It gathers significant onsite data and enables SEO professionals to make informed decisions. Some of the typical uses of screaming frog include-
Finding broken links,
Analyzing page titles and metadata,
Generating XML sitemaps,
Integrating with Google Analytics and
Discovering duplicate content
The recent version of screaming frog -Screaming Frog SEO Spider Update Version 9.0 will prove to be a useful SEO tool for all.
Freelance SEO consultant Krystian Szastok says, "Screaming Frog – My favorite SEO tool for competitor analysis has been Screaming Frog. This may come as a surprise to many, but scanning your competitors' sites once a week for new content changes can reveal a lot about their content strategy.

Rounding off
Organic ranking is fundamental to the success of any website. But appearing at the top of any search engine is no cinch. Thus you need to implement robust marketing strategies and continuously update your technique in this ever-changing industry. Digital marketing experts recommend some SEO tools for webmasters. Combine your marketing strategies with these optimal Search engine optimization tools and reach your desired goal.
At A1 Future Technologies, we provide online branding services for businesses worldwide. Our strategies are based on the analysis of market trends which in turn help us to design the most competent branding blueprints for online success. Explore our bouquet of services for your need today.
You may also like:
Top 12 Social Media Management Tools to Grow Your Business in 2018
Top 9 Twitter Tools Powering Social Media Experts in 2018