Content marketing has come a long way since its inception. It has outspread to a plethora of visual content varieties from only text-based missives. Today when it comes to engaging the audience and converting into your customers, nobody can deny the prowess of the recent trends – digital marketing memes.
Memes are elements of culture whose styles, concepts and behavior are imitated and used for entertainment. Not a very new term though, the idea was born in 1976 by British Evolutionary Biologist Richard Dawkins in his 1976 book "The Selfish Gene". He analyzed the diffusion of the socio-cultural phenomenon and coined the term.
Brands have been using these humorous forms of communication as a useful marketing tool – to promote a brand or product. Unlike usual images and videos, memes enthrall the target audience as they have particular names and positioning in the minds of the users.
What is Meme Marketing?
Memes are a specific piece of communicative materials that spread through social networking websites and have a recall value. They have a definite style and concept that usually go viral on the internet. The style and the concept of the image stay the same, whereas the copy changes. They're a fun way to reflect on current events, clichés and trends.
Meme marketing, a subset of viral marketing is the practice of using these funny contents having inside jokes to engage the audience and drive traffic. Brands are creating memes to enliven communication and maximize shares on social media.
Digital marketing memes have become a popular form of expression due to two vital reasons:
One they can be published in any social media platform, which helps them spread far and wide.
Two, people have extremely short attention spans online, so the short and snappy nature of memes makes them a perfect medium for easy consumption.
Needless to say, marketing plan using meme is a viral visual marketing strategy that enhances brand's visibility amidst fierce competition.
Talking on the significance of meme marketing, famous digital marketer Neil Patel says, "a brand can generate 453 Likes, 57 Comments and 256 Facebook Shares through memes."
According to him, every business has a suitable goal which is to "engage their audience." There's no denying the fact that engagement comes from creating the right content. And when today the world revolves around social media relations, the trend of memes can quickly help marketers to achieve their ambition.
Digital Marketing Memes: How to use them to gain traction?
Memes are predominantly created for the younger audience. Undoubtedly social media is a hub for millennials to share their thoughts, ideas and beliefs. That is the reason you need to have a clue on every broader online discussion and plan your social media memes. For example, if your marketing campaign is designed for the older audience, they might not follow the message you want to convey through memes or get the reference. Thus, your attempts at humor could go in vain.
Secondly, another most critical aspect is about understanding your brand voice. Whether your brand uses a serious tone or you have a lighter approach to reach to your audience, it's mandatory to research and create the digital marketing meme to establish credibility and authority.
Here are 7 tips that let you understand how to design digital marketing memes:
1) Decide Whether Memes Complement Your Brand Or Not:
The first and foremost thing which every marketer needs to take into consideration before using meme marketing is what the brand is all about. Owing to the fun element induced in memes, this marketing campaign does not suit every kind of brand and if used in a wrong way, it brings drastic result. Such marketing technique goes well with brands that are modern and portray a playful image. So, it's imperative to understand what suits your brand.
If your company sells shoes, gift items, toys and the like, you can easily use funny marketing memes as your marketing drive. Companies that provide professional and traditional services, memes may not be the best idea for their advertising endeavor.
For example, The sports goods giant NIKE keeps its customers engaged by delivering pun intended posts. These are not planned rationally like advertising campaigns, yet they are piquant enough to captivate viewers' attention.
2) Be Thoughtful and Creative While Delivering The Message
Meme marketing though sounds fun, is no cakewalk. As sarcastic and ironical texts are used to bring out the true flavor of these digital marketing jokes, if not created with the right tone, it can backfire easily. Despite having good intentions, your audience may get confused and they may not get the actual point you want to put across. So, careful research of images and texts to set the right tone that resonates with your brand voice is extremely important.
Netflix is one of the most popular brands that are quite interactive with their followers on social media platforms. The brand is known for innovative meme-marketing, using internet lingo and informal language with its audience. According to the brand, it's essential to be mindful of your audience and know how to present yourselves on various platforms.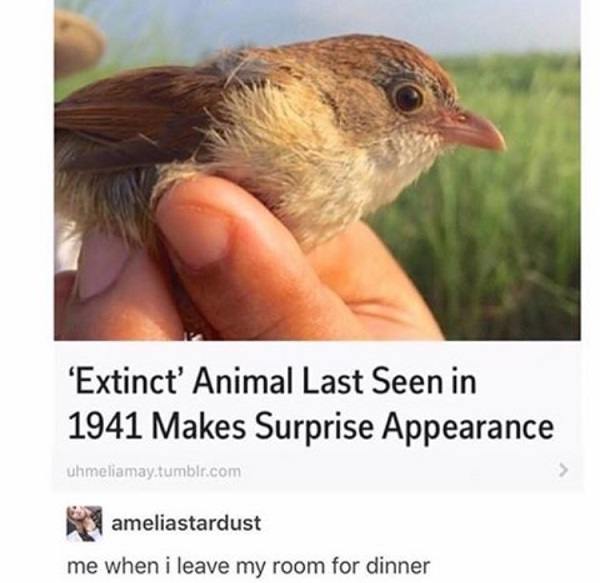 Source: https://www.feedough.com/5-genius-examples-of-memes-in-marketing/
3) Understand That Memes Can't Replace Original Content
Needless to say, memes are the best things that can be and a great addition to any content. They are mostly used to magnify the brand message to a broader audience. But one thing which you need to realize is memes are for inserting fun elements. It's not a good idea to rely on memes all the time. When you add memes in your marketing campaign, try to balance it with a substantial amount of serious content as well.
4) Manage the Thin Line between Promotion and Engagement
Present-day audience is smart enough and demanding too, nowadays they think twice before trusting any advertisement. This is the reason why it's difficult for marketers to pique the curiosity of your target audience. Several market surveys reveal that people don't react to advertisements that sell directly. So when it's about meme marketing, you must differentiate between promotion and engagement. It's essential for every marketer to understand that there's a thin line between advertising and engagement. Often when you present a meme that seems overtly promotional is far less likely to be shared than one that is more engaging.
5) Convey a Niche Message to Your target audience
The main goal of meme marketing is to engage your target audience closely with your brand. So, you need to create a meme to which your audience can associate too quickly. When people find it relatable, they are eager to share with their acquaintances. Hence, creating memes require a smart approach. Such a wise step will definitely make a lasting impact on your audience.
Nickelodeon took advantage of meme marketing and promoted its TV schedule for Twitter and Instagram. As it was relatable topics for children, the audience's excitement knew no bounds and as a result, the brand became the viewers' favorite cartoon channel.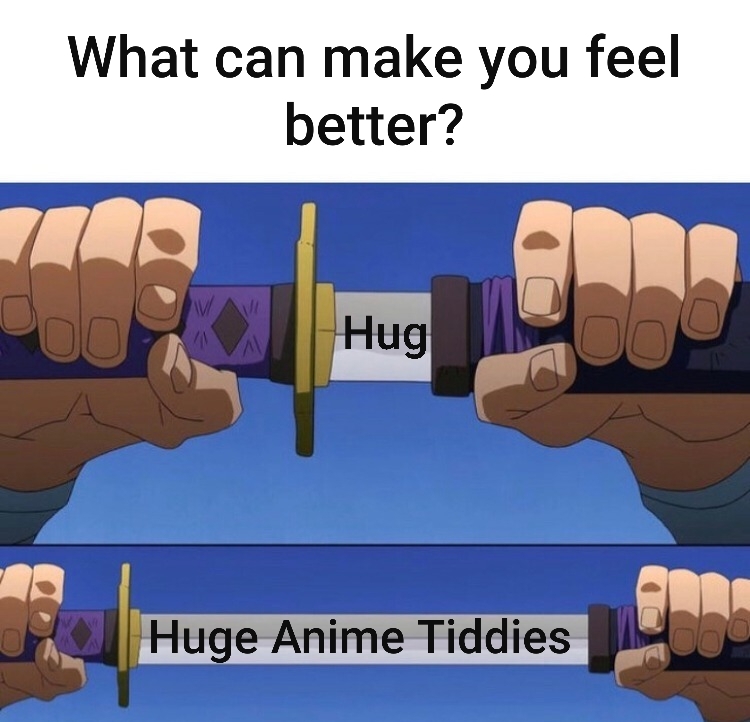 Source: https://econsultancy.com/memes-in-marketing-seven-memorable-examples-from-brands/
6) Create Fresh and Relevant Memes To Be At The Forefront
If you want to succeed in meme marketing, it's crucial to create fresh and relevant contents. Having access to most tropical happenings and designing meme around the same is highly appreciable. It's an advantage for every marketer to create the latest flare-up because they get shared across social media like wildfire.
Take inspiration from Gucci; the brand started the meme marketing #TFWGucci in 2017. The brand used existing memes to create content and promote their new line of watches.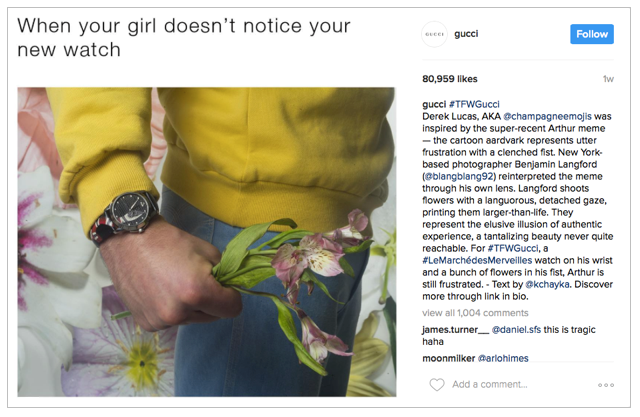 Source: https://www.xakbox.com/what-is-meme-marketing/
7) Understand Social Customs and Design Meme Accordingly
Every culture has its own social customs, so before designing a meme, knowing and respecting the social traditions can bring wonderful outcomes. There are times when many organizations don't go by the norms and keep posting insensitive and careless memes. Needless to say, these brands get trolled and become a laughing stock. Moreover, the audience starts leaving. Hence, it's essential to perform a detailed research of meme demographic before posting them.
Grab The Attention Of Your Target Audience With Effective Meme Marketing
Memes, one of the breakthrough inventions of the digital era are one of the most trending forms of communication today. Although the most underrated marketing tool, yet this form of communication is slowly and steadily becoming mainstream and is entering into the market as quickly as possible. As digital marketing is more interactive and personal now, memes work wonders. They are prone to go viral and have the advantage of bringing the audience into the sales funnel.
If you are looking for more such innovative ideas that can amplify your business visit A1Future, our creative minds are always researching for exceptional potential tools to bring you at the forefront.