With over 291 million people on Pinterest, Pinterest marketing is going to be extremely 'Big Thing' this 2019 and as predicted by marketing experts it's going to stay here in the coming years too and make a huge difference in the marketing realm.
Introduced in 2010, Pinterest entered the social media scene a little late compared to other social media channels. Of late Pinterest has emerged as a platform where people reconnect with themselves. Yet, it's considered to be one of the best and fascinating social platforms that allow a marketer to "pin" ideas to boards of any nature.
Modern marketers can consider using Pinterest as a marketing tool to increase brand awareness, driving organic traffic and finally contributing to the business revenue. Why? Time magazine named Pinterest one of the top five social networking sites. There are many more.
You will get a clear idea once you take a glance below:
Pinterest drives 33% more traffic then facebook proportionately.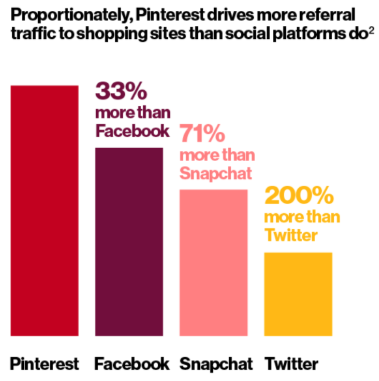 Image Source: Hootsuite
Hootsuite publishes a report that states – 59% of millennials discovered their products on Pinterest and this makes Pinterest at par with Instagram.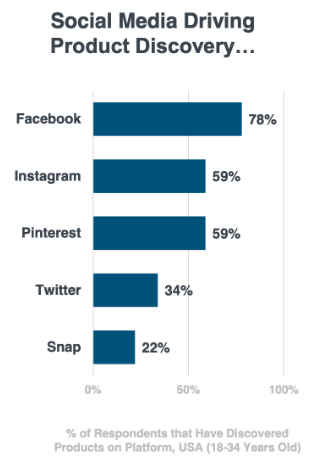 Image Source: Hootsuite
Take a look at the comprehensive guide to Pinterest marketing for amplified business reach
What is Pinterest Marketing?
Before you plan to use Pinterest marketing strategy, understand what Pinterest is?
Pinterest is a well-known social networking site that has been captivating every visitor's heart with moving images. The platform provides every user to share images you find online.
These images that are then uploaded to the site and these are known as 'Pins.' You can place these pins on boards, customized under a theme. Moreover, you can create any theme you want according to your choice.
What are the advantages of Pinterest Marketing?
Pinterest Converts More Visitors Into Buyers
Pinterest is a user-friendly platform. It's also identified as a visual search engine. People visiting the site can discover their source of interest with ease. Most importantly, it's seen that people often visit Pinterest during the research phase of their planning; they also gather inspiration from several pins as well.
This facilitates the process of fast conversions. According to several surveys, visitors from Pinterest are more likely to convert into leads or sales faster than any other social media sources.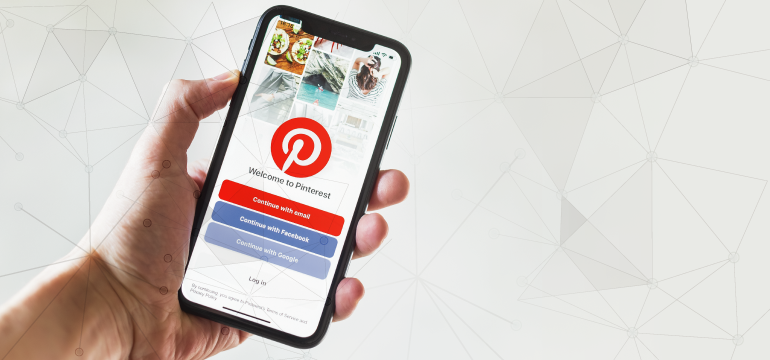 Pins Allow You To Get More Inbound Links
Every pin shared on the platform includes a link which makes it easy to lead it back to the source of the image. Isn't it amazing? Think about the number of visitors you can bring to your website by posting pictures of your services and products on Pinterest.
Pins increase User Engagement
Pinterest is a network that offers scope for creativity and expression. The platform is a great place to find lots of original ideas. You can curate other people's content and if you run out of ideas, you would get enough opportunity to think of related and relevant interests your customers might have.
As users on Pinterest seem pretty content to find and share things with small groups of people, it means that the pins you share are more likely to be seen, touched and even go viral. Needless to say, this is good for your business.
Pinterest Promotes Cross-Platform Advertisement
Do you know cross-platform posting can bring you impressive results? Pinterest easily integrates with your website and other social accounts you might have (Facebook, Twitter, etc.).
How is this beneficial for you? Your users can automatically post new pins to their news feeds and others will see it.
Pinterest Attracts More Female Customers
One of the most interesting and advantageous phenomena of Pinterest – the platform boasts of attracting female users more than any other social media channels in the world. There's no room for doubt that this set of users has enormous spending power.
A comScore study states that about 60% of Pinteresters were women. Ideally, most of them are U.S based. However, the report also reveals that about 30% of the users are from the outside USA. It's fascinating to know that this group of the audience is known for the enormous spending power.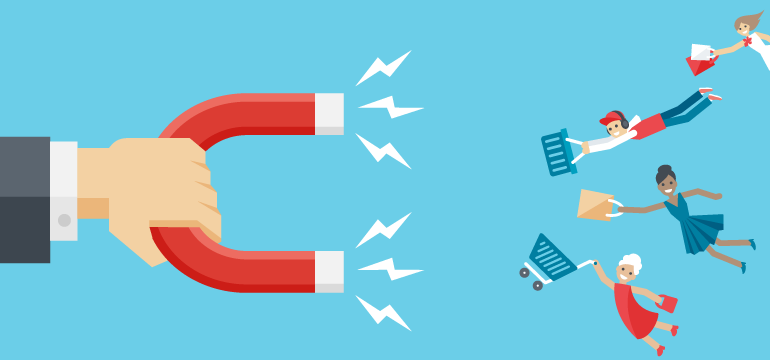 How to market on Pinterest?
1. Set Up a Pinterest Business Account
The initial step is to create a business account in your Pinterest. Once you establish a Pinterest business account, you will get to enjoy certain business-specific features like analytics and also will be able to enjoy Pinterest advertising.
Interstingly, 5000 taste graph interests advertisers can target on Pinterest.
If you have a personal account, there's perk when you convert it to a business account. Creating an account on a business page is extremely easy. Click to join as a business page and enter your business name, email ID, password and other essential information required for filling up an account.
Once you complete your business account profile, there are other best practices to follow-
Confirm your website: Confirm your website to see what people Pin from your website and whether they add any logo from your site Pins or not. Doing this, your website will also boost the rankings of your Pins in search results.
Creating boards: The next step is to create boards account and then you can start sharing and organizing content so that Pinners are sure to follow. The trick is either you can share your account or one or more of your boards.
Pinning: Now that boards are set up, it's time to add some Pins. There are several easy and quick steps to install to Pinterest browser button. The button allows you to Pin anything from the web and that too just with a couple of clicks.
2. Engage with people and gain followers
When you start marketing your business on Pinterest, gaining new followers becomes quite crucial. So, use your pins to build relationships with the people who view you. There's no denying the fact that the more you engage with people with more success you will taste.
How to engage with people?
The best practice to engage with followers is by answering their questions and responding to their comments directly. It's as simple as you respond to tweets, Facebook posts, and Instagram comments. The process is like going an extra mile and addressing them directly. People love to get immediate attention and this also benefits you in the long run too. You can establish a greater customer service and take your business to the next level.
Neil Patel, (popular blogger) in his blog 'The Ultimate Pinterest Marketing Guide: How to Improve Your Reach and Promote Your Brand' talks about some of the vital factors that play a significant role in connecting to people, engaging with them and finally gaining followers.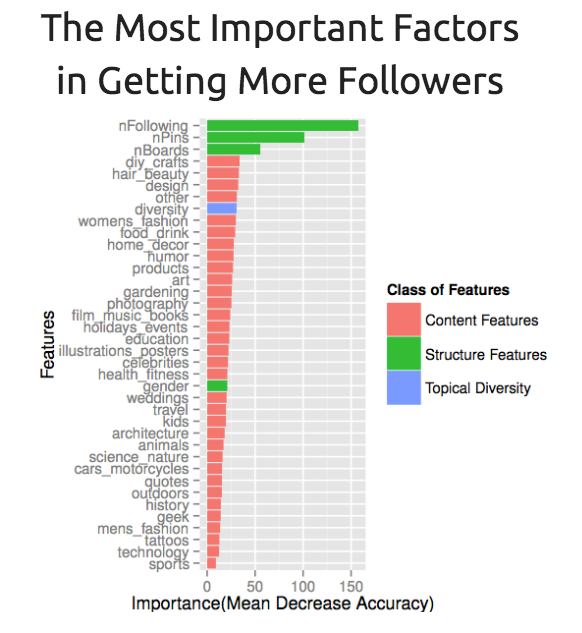 Image Source: Neil Patel
3. Focus on Creating Influencer Relationships
Building the influencer relationship and making them your brand ambassador gives your business a different level.
When you wish to reach a wider audience and gain more followers, undeniably reaching out to influencers in your field will pay off.
How do you connect to influencers?
The process is simple- start by following their boards, repinning their pins and also don't forget to leave engaging comments on their pins. Another way you can collaborate with influencers- request them to post on a board of yours, or you can even offer to contribute to one of their boards.
4. Create SEO strategy to get more on Pinterest
It's a known fact that SEO strategy is the best way if you want to get your pins discovered by your target audience. However, the good news is to optimize your pins regarding Pinterest searches is not at all tedious.
You need to follow these two steps:
Research Keywords: Like optimizing any blog post, try Google AdWords Keyword Planner tool to find popular and related keywords to your business and your pins.
Add Keyword: After your keyword research next step is to add your keywords to the pin titles, pin descriptions and pin image file names.
Just a tip of caution – It's advisable that you shouldn't go overboard with keywords. Try to keep your keywords' minimum, yet strong and relevant.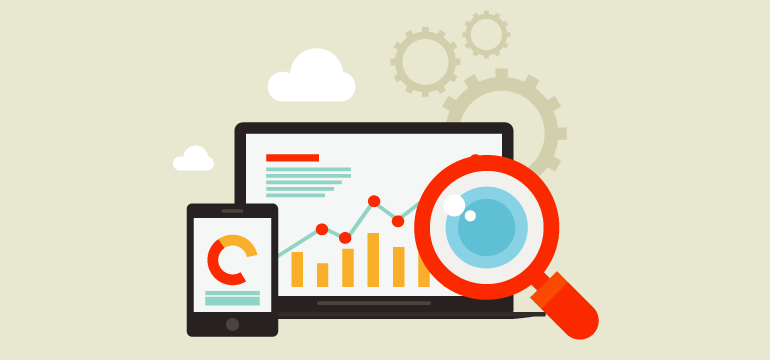 Success Stories
Based on our secondary research, we identify some of the companies who have been enjoying beautiful results with Pinterest marketing.
Etsy
The most popular company that has made its name in the Pinterest marketing business is Etsy. It's a company that buys and sell all things vintage and handmade. Etsy is a great example; it says on how to extend a company's online presence to Pinterest.
Followers and viewers have been using Etsy to collect gift ideas, pictures of inspiring interiors and recipes they want to try.
Anthropologie
The company, Anthropologie, is well known for offering fashion wears. It boasts of having 58 boards ranging from vacation wear to office fashion for its chic, bohemian audience.
Anthropologie has succeeded in its Pinterest journey because it has opened it's Pinterest boards to followers, guest pinners and brand partners. Anthropologie encourages followers to pin their favorite discovery with #AnthroFave. Needless to say, it results in a presentation of merchandise that promotes the brand and highlights your fan's interaction as well.
Whole Foods
Whole Foods, headquartered in Austin, takes pride in offering 60 boards showcase seasonal recipes and ideas eco-friendly lifestyles, living healthy. Whole Foods provides the board as #WhyAustin. In addition to that, the committee also features contributor pins from brands like HomeAway.
This company illustrates that promoting regional pride is one of the best features of drawing your customers into your local locations.
Still wondering why to market on Pinterest? The following statistics prove it all-
Start Pinning Today!
With so much benefits of pinterest marketing what are you waiting for? Open a business account now and if you have a personal account turn it into the business account instantly.
Besides Pinterest marketing, if you want any more marketing to create, grow and amplify your business get ideas from A1 Future.com today.