High quality backlinks are among the most essential necessitates for search engine optimization (SEO) today. These are incoming links to a webpage, i.e., when webpages link to any other major page, it's called backlinking. In earlier days backlinks decided the rank of a webpage and in the present moment still, it's true to a large extent. With a lot of backlinks, a webpage is considered to rank higher on Google and other major search engines.
What are backlinks?
Backlinks are the clickable links or hyperlinks entered on your web page or website, which redirect your site to a reliable source such as an Authority website. Authority link building is the best way to get backlinks to your site.
Search Engine Optimization is vital for any website and it changes with Google Algorithm updates. SEO is sub-divided into two basic categories- on-page and off-page. On-page SEO involves optimization in a webpage that lets search engines understand what the site is all about. On-page SEO also enables the search engine to make your site accessible to the right audience, at the right time.
On the other hand, off-page SEO is essential to let the search engines identify which website is more important and relevant amongst two similar web pages.
Do you know that the maximum focus comes from backlinks?
Undeniably backlink building is an important SEO strategy and every online business should be using this backlinks SEO strategy today for securing a top position amidst competitors.
However, as a marketer, you must take into account that although backlinks are a crucial part of Search Engine Optimization, yet they are not the only factors responsible for SEO.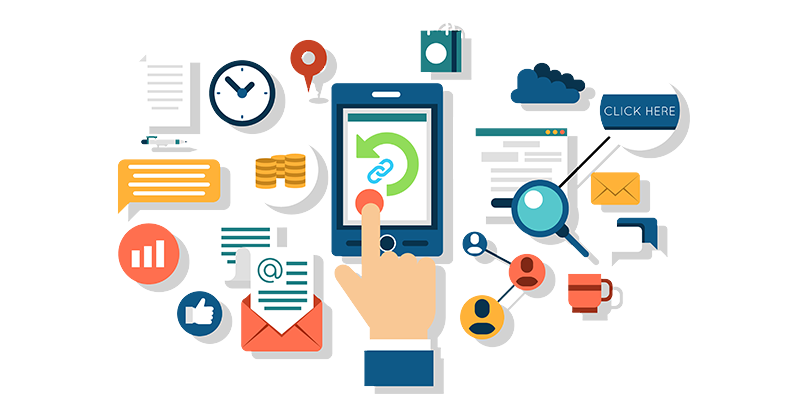 Source: SEO Hermit
Backlinks – understanding the high-quality backlinks and the bad backlinks:
Regarding backlinks, the quality matters most than the quantity of the backlinks. A content marketer must concentrate on creating high-quality backlinks for more effectiveness. If content marketing is not used in the right way, your website would lose valuable audience.
To know about the best ways to build backlinks and which ones content marketers must use, one should understand the difference between high-quality backlinks and low-quality backlinks.
A high quality backlink is the one that comes from authoritative domains that are relevant to your niche. In other words, when the website linking to your site has a high Domain Authority and consists similar content, backlinking will do good for SEO.
Conversely, backlinks that are taken from unrelated and unreliable sources are the bad backlinks. The rule of the thumb is not to trust sites that have been penalized by Google or have somehow violated Google's Webmaster Guidelines. Building links with such websites can have a negative impact on your SEO.
How to understand which website is reliable and which one is not?
To determine the best backlink sources, perform website audit. Here's a checklist of website analysis-
#1. The first and important job before deciding on a website for backlinking is analyzing its domain authority. Did you know that the Domain Authority is one of the perfect SEO metrics? Sites with a Domain Authority above 30 is considered to be a good source of quality backlinks.
How can you analyze Domain Authority?
There are two ways to determine the Domain Authority of a site:
#2. Next step – you need to identify site relevancy before link building. If you choose a website not relevant to yours, you will end up building a bad backlink. For example, if your site is of digital marketing and you provide links from websites that talk about furniture, it would be bad backlinking. You need to make sure that the site you choose to insert link about deals in a similar topic as yours.
#3. Before link building, consider to check if the website is active and updated regularly. If the website is not regular in its updates chances are it has been penalized.
#4. The next big thing is to verify if the website has a penalty or not. Additionally, you need to identify if it's indexed by Google or not. To check indexing perform a search using site: domain.com. You can also perform a search for the site's brand name if it's penalized without being deindexed. To put simply, if you find your chosen website ranking at the top that means it would provide you high quality links but if is found in different positions it's better to avoid the site for backlinking.
#5. You also need to analyze the traffic of your chosen website. To find the traffic insight, use Similarweb and track the website traffic sources. If the site receives less traffic that means it's not a very good website.
#6. Next, you need to check if the website is using no-follow or do-follow attributes.
Whatever link attribute you choose, it will create a huge impact in your site ranking and traffic attraction.
Take note of the no-follow and do-follow link attributes:
Do-follow links are those that let Google and other search engine follow them and proceed to your website. The best way to provide do-follow backlinks is to use the keyword in the anchor text. Which means when you are linking to any website or page, make sure to use the targeted keyword as anchor text.
On the other hand, no-follow links attributes do not give search engine the scope to follow a link. The link juice can be traced only by humans after several dissents, of late Google has announced that it will still give importance to the no-follow link as an outgoing link regarding the distribution of page rank from your page. But again positioning of such links would matter – placing a no-follow link at the bottom of the page will have least impact but putting it at the top of would provide more weightage.
How to create backlinks for my website?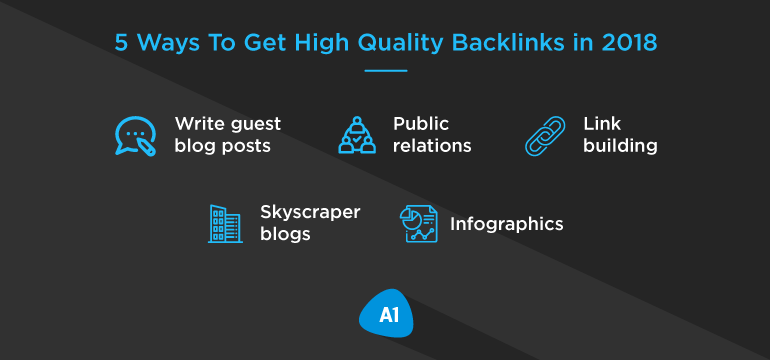 5 Ways To Get High Quality Backlinks in 2018
1. Create backlinks free by writing guest posts
Guest posting or the practice of posting blogs to another website for free in exchange for a link back to your own site is one of the best methods to get high quality backlinks. Generally, these links are placed in the author bio section or used within the content to cite information.
According to experts, it's a useful link building method because it brings good results to both the sites. A site receives a free content and on the other hand, another site receives the high-quality link.
But as a webmaster, you should never consider contributing poor quality write-ups to earn links to your site. This act of yours will diminish the actual value of both the sites in the eyes of Google.
It's better to follow Google warnings about guest posts and link building strategies.
Neil Patel states that guest posting is the best way of boosting your SEO. He remarks, "the links will still help with your overall site authority and, more importantly, increase your overall long-tail traffic. And in my opinion, that is more valuable than ranking for head terms as 80%+ of your traffic should be coming from long-tail keywords."
2. Get high quality links from public relations
Public relations have of late gathered immense importance in the context of link building strategy. It's a practice of getting backlinks from the press. You will get high pr backlinks if you get cited in online contents such as news article.
You can sign up for Help A Reporter, or HARO and enable journalists to put out your sources within their daily newsletter.
Brian Dean, founder Backlinko states in How to Get High Quality Backlinks in 2018 (7 New Strategies) , "HARO is like Tinder for public relations. It connects people that need sources (bloggers and journalists) to people that want links and exposure (you)."
3. Look for broken link building
David Zheng, editor in chief Crazyegg describes that, you must be aware of broken backlinks because it would eventually hamper your site. According to the process, each link on a site links to another online page. But as websites keep moving their content around, many times these links "break," or they no longer exist. Therefore, when a user clicks on a broken link, they come across a message '404 error page.'
When this happens, search engines cannot index or crawl websites. Therefore, you should concentrate on broken link building and build valuable links. The method involves finding broken links and identifying the content they originally referred to. Finally, you can offer the site the chance to replace their broken link with a valid link to relevant content.
4. Think of creating Skyscraper blogs
Find Skyscraper blogs and articles to link back. It is an amazing way to have valuable content ideas to earn quality links to your site. You must look for quality contents. If you target any specific competitor, use Ahrefs' Site Explorer to find contents specific in your niche that have already received recognition in Google and other search engines eyes.
5. Infographics – best way to get quality backlink
Infographics are the recent trends today. They are preferred by the audience because they have specific advantages of being highly shareable. Hence it's essential to look for trending topics and create infographics for your content. The process works thus- mention at the bottom of the infographic about your brand and make it viral. Thus, when it gets a lot of views for sure, you will get some backlinks when viewers embed it into their websites.
Why should you use high-quality backlink for your business
Besides SEO, high-quality backlinks also have other benefits. Although not many people think beyond SEO benefits of link building, yet there are other significant advantages of backlinking.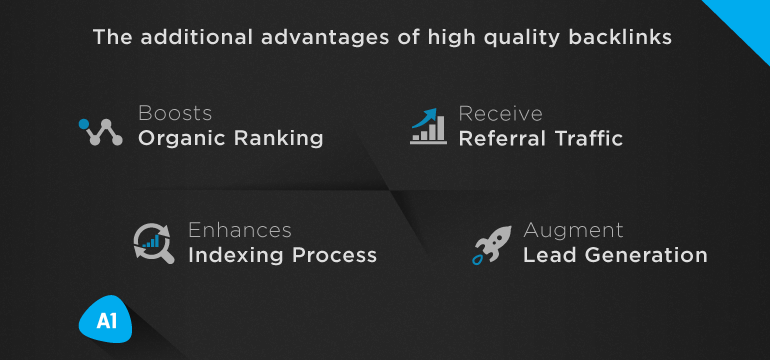 Here are the additional advantages of high quality backlink:
1. Boost Your Organic Ranking
The major concern of any web page is to appear on the first page of Google's Search Engine Results Page (SERP). If your company name does not rank at the top, then it's detrimental to your company as people would never know that you and your business exist. Hence, it's essential to get backlinks.
Backlinks are organic links from different sites and when your content gets more and more organic links, that content naturally rank higher in search engines.
2. Enhances Indexing Process
Backlinks are helpful for your website because it allows the search engine bots to find these links on your site and then crawl your site effectively. If you are building a new website then backlinks would play a significant role – they would help discover your webpage amongst competitors and index your site.
Your goal should be to create links to individual posts/pages along with those leading to your homepage.
3. Receive Referral Traffic
Another leading benefit of using backlinks – your website will receive colossal amount of referral traffic. Referral traffic means those visitors who come to your site from direct links on other websites. For instance, when a particular webpage posts something recommending your site, readers follow that link and reach your site. Referral traffic is essential because it contributes to increasing the "page rank" of your blog, in addition to that it also provides a steady source of traffic outside of search engine hits. When you receive target audience to your website, you are likely to increase revenues also.
4. Augment lead generation
When you use backlinks on your page, needless to say, readers would appreciate that because along with your source you are also providing your readers with other relevant sources to read and research. This approach of your is sure to engage your readers with your brand. They would perform more research and additionally will want to associate with you more. Your visitors would also take action on your website. They might follow you on social media and this way your visitors may eventually get converted to valuable leads.
Final thoughts
Backlinks are valuable to gather organic traffic. You must create your content in such a way so that people when visiting it get the impression that yours is a credible site with lots of information. So with the above ways get high quality backlinks. However, the list is indicative, if you feel you can also use other strategies and get the desired amount of backlinks.
To gather more knowledge on digital marketing, content marketing and brand building visit A1 Future. Here you will receive suggestions and professional guidance to carry your business above further.